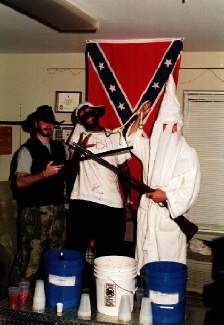 Two all-white fraternities at Auburn, Delta Sigma Phi and Beta Theta Pi, have been temporarily suspended by University administration [AU] for vicious racial hatred at this year's Halloween party [SPLC]. Costumes included a hooded and robed Klansman, several white students in blackface, some wearing the shirts of a national Black fraternity, Omega Psi Phi, and one wearing blackface and a noose around his neck. Pictures included posed scenes of lynching and police brutality (all of the frat boys have big stupid grins on their faces–ha ha ha, genocide is really fucking funny, boys). I have known for a long time that the white fraternities at Auburn, and elsewhere, are some of the most reactionary networks on campus. There have been repeated problems from the fraternities for years in terms of racist, homophobic, and sexist discrimination, as well as a long record of repeated sexual violence against women. But this–this took me by surprise. And it disgusts me that anyone would feel like Auburn is a community that tolerates this shit.
I should note that despite the casual use of Southern hate imagery (the Dixie flag, the Klansman robes, the noose) this is not at all a unique problem of the South or rednecks out here as opposed to the Clean Livin' Folk over yonder North of the Mason-Dixon line. On the contrary: the supposedly progressive liberal arts school that I spent a year in up north was marked by racial hate incidents several times within recent memory. I personally remember a student showing up in Black costume to a Halloween party (nothing as horrible as this, but still unsettling); the previous year a Black student had his bed set on fire shortly after receiving an anonymous letter stating that the college had a No-Nigger Policy. I am disgusted with what has happened here in Auburn, but I could only wish that the world were so well off that this would be a unique event or something that only happened in the South. In reality, racism is a social disease that pervades the entire country, not just us rednecks down here in Alabama.
For further reading:
Take action!
Please send polite and carefully-considered e-mails to Vice President for Student Affairs Wes Williams and Interim President William F. Walker urging them to take this hate incident seriously by ensuring that the individuals who committed it and the fraternities who hosted it are severely punished, urging them to permanently dissolve the local chapters of Beta Theta Pi and Delta Sigma Phi. Further, politely but firmly ask them to make sure that their response to this incident include a careful look at the broader racial environment at Auburn and that concrete new programs be implemented to address racism in the Auburn University community.