Here in Alabama, there's been very good news, and there's been very bad news, on the front of gay liberation and the struggle against anti-queer bigotry.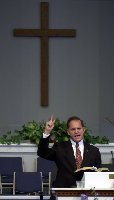 The State carries the power of the sword… It must use that power to prevent the subversion of children toward this lifestyle —Roy Moore, Chief Justice, Alabama Supreme Court
First the bad news. In a recent Alabama state Supreme Court decision, the court ruled unanimously to deny custody of three children to their mother, who alleged that the father was physically abusing them. The majority of the opinion of the court stated that higher courts had impermissibly reweighed evidence already considered in the lower court on the question of abuse, and thus the mother had not sufficiently met the burden of proving that the children were at risk of abuse. I disagree with this opinion, given what I know about family violence, but this was merely an issue of how much evidence had been produced.
With that majority opinion going on the books, Good Ol' Roy Moore, the Chief Jackass of the Alabama Supreme Court, decided that he had to go out of his way to write a concurring opinion. You see, the mother is now living in a lesbian relationship in southern California. And ol' Roy Moore (perhaps better known as The Ten Commandments Judge) just couldn't pass up such a ripe opportunity to use his bully pulpit to screech virulent hatred against Alabama's queer citizens.
Homosexual behavior, Moore opines, is a ground for divorce, an act of sexual misconduct punishable as a crime in Alabama, a crime against nature, an inherent evil, and an act so heinous that it defies one's ability to describe it.
Oh, but it only gets better. Moore continues:
Chief Justice Roy Moore
Führer-in-Waiting (Ralph Reed) Acrylic on paper, 24″ x 21.25″. ©1997 Lilith Adler.
The State carries the power of the sword, that is, the power to prohibit conduct with physical penalties, such as confinement and even execution. It must use that power to prevent the subversion of children toward this lifestyle, to not encourage a criminal lifestyle. (p. 36 of decision, emphasis added)
Take a moment and read back over that. The Chief Justice of my state's Supreme Court just argued that the State is fully within its legal and moral prerogatives to imprison and execute queer people in order to "protect" children from their evil influences. Thank God Moore was not writing for the majority of the Court — if this bullshit had the weight of legal precedent in Alabama, we might see the pink triangle marks and the concentration camps coming around the corner any day now.
Of course, Moore's outrageous remarks have not gone unchallenged. State Representative Alvin Holmes (D-Montgomery) has requested an investigation of Moore by the Alabama Judicial Inquiry for violations of three parts of Provision 2 of the Alabama Canon of Judicial Ethics [Montgomery Advertiser], calling on Moore to resign and confronting him with the possibility of being removed from office. Equality Begins at Home Alabama has also called for Moore's resignation and is sponsoring events responding to the hateful decision.
In spite of all of this, there is good news. It may seem very small, and yet I believe that it's more important than anything that ignorant asshole Roy Moore ever said in his life. According to the Opelika-Auburn News, 17 year old Allen Jeffers will be attending his Opelika High School senior prom with his boyfriend, the first time there has ever been a same-sex date included in the OHS prom.
No matter how small it may seem in comparison to the sturm und drang of state judicial politics, it is exactly this kind of everyday, local victory for acceptance and welcoming of queer people into our community that we ultimately need to win against the bigoted demagogues such as Roy Moore. I remember graduating from Auburn High School, just across town from OHS, just three years ago, and this just would have been completely unimaginable. Just being openly gay in the face of the whole school would have been completely unimaginable. Thank God for Allen Jeffers' courage and the slow, hard work of making the queer community visible and, eventually, overcoming bigotry and creating a welcoming community in Alabama. I firmly believe that if we can keep up this work, bigots like Roy Moore haven't got a prayer.
Take action! For more on actions being taken against Chief Justice Moore's bigotry, check out Equality Begins at Home's pages on what is happening now and what you can do to help. If you are in the Auburn area, Auburn Gay and Lesbian Association meets every Monday at 7:30pm to work for a supportive community for queer people in Auburn-Opelika, and to defend queer people from anti-gay discrimination and violence. Human Rights Watch also has a good page on what you can do to build safe, supportive schools for queer youth.
For further reading:
Update 2005-05-15: Minor changes for style.