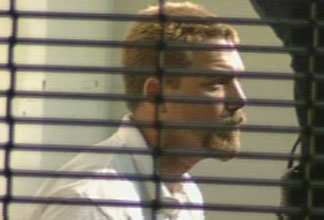 It's happened again: I am now stuck with pointing out that a ghastly shell of a human being ought to have his life spared, even though he's a lying, murderous sociopath, and even though he's obviously guilty as hell. God damn it.
There have been less-publicized cases over the years where I've been in the same position, but the last time it was really this hard a slog was back when Timothy McVeigh was sent to the slaughter-house in June 2001. Oh well; here we go again.
It is clear from the evidence, at least as far as I am aware of it, that Scott Peterson is a sucking abyss where a human being should be; that he is a lying, cheating, manipulating, violent sociopath with a petulant sense of entitlement, and that he mercilessly murdered his wife. It is a good thing that he was found guilty and a good thing that he will spend many years in prison. But none of that matters when the question is whether or not he should be killed. Virtuous or vicious, penitant or unrepentant, guilty or innocent, he does not deserve to be killed. Whether he deserves to live or not is not a question I'd ever presume to have the answer to, but nobody deserves to have their rights violated. Not even Scott Peterson.
The death penalty is State-sanctioned murder. Why? Because you are sending someone to death row, and after years of premeditation, deliberately killing him–whether you burn him alive, behead him, impale him, or engage in more civilized forms of slaughter such as the gas chamber, intravenous poisoning, or electrocution. The end result is the same: another human being is dead, at the hand of the executioner (and the ruling gang that put him up to it), with no plea of self-defense and with malice aforethought.
It's not that I think you don't have the right to use violence, up to and including lethal force, to save yourself or others from someone who threatens your life. You do. If Laci had been able to shoot Scott Peterson in the head, I wouldn't shed one tear or complain one bit. But the death penalty is not self-defense. Scott Peterson is a vicious wretch, and it is horrible what he did, but he is now a harmless vicious wretch: he poses a threat to no-one from a prison cell, and doing more violence to him will not undo any of the horrible things that he's done.
You might say that condemning Scott Peterson to death is violence in self-defense, but in an indirect way–by killing Scott, you might deter other would-be murderers in the future. But whether the empirical claim is true or not, it's irrelevant to the moral issue: as disgusting a human being as Scott Peterson is, and as much right as we have to keep him in prison for the rest of his life, his body is still not a post-it note; we have no right to do more violence to him than would otherwise be justified just so that we can send a message to some vaguely specified group of people.
You might say that slaughtering him doesn't need to have anything in particular to do with self-defense; that it is legitimate to do so because he deserves to be punished for his horrible crimes. Maybe he does; but even if he does, none of us has any right to give him what he deserves. Blood vengeance is not a basis for law, and it's not a justification for the use of force.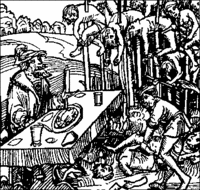 You might think that I am dealing with complex positions in a brief and dismissive way. Probably so; but there are good reasons to be dismissive: the arguments have monstrous consequences that very few people are willing to accept. If you think the deterrance argument or the punishment argument can justify killing Scott Peterson, then what principled reason would there be to deny that it would also justify mutilation or public torture? If execution deters potential criminals then no doubt public torture does to; and if his crimes give us the right to make him suffer even without any defensive purpose, then beating him or branding him or slowly flaying off his skin would certainly do the trick. You might say that these are far more barbaric than killing him humanely; but that is a bunch of sentimentalized nonsense. Torture is horrible, but being killed is worse; any argument that justifies killing Scott Peterson with premeditation and with no defensive purpose can, a fortiori, justify anything that you could care to do to him, since nothing can harm him as much as death.
Almost no-one seriously thinks that it would be right to torture murderers. Most people would find it barbaric, and most people would consider it a violation of the torture victim's human rights. No matter how horrible a person that torture victim is. No matter what punishment they might deserve or what deterrance effect it might have. But if you think that, then you are logically committed to saying that it's wrong to condemn murderers to death, too. Modus tollens is a tough cookie.
Scott Peterson is in a prison cell that he richly deserves to stay in for the rest of his life, and that we have every right to keep him in. I am glad that the dickhead is there; let him rot. There is no excuse to make this sociopath a victim of our own bloody-minded injustice. But nothing can justify executing him, or anyone else; the death penalty must be ended–here, now, before one more person dies. Anything else is murder–murder that the State claims to be committing in our names.
Further reading:
GT 2002/06/24: Wallace Fugate is guilty as hell: Opponents of the death penalty all too often put themselves in the position of mounting dishonest campaigns protesting the innocence of someone or another on death row. In Wallace Fugate's case, the tactics are particularly slimy, since they are fudging facts and making misogynistic excuses for a violent, controlling batterer who clearly murdered his ex-wife. Arguments like these simply bypass the point: Wallace Fugate is guilty as hell, but that offers no excuse for executing him. The death penalty is indefensible whether he is innocent or guilty.