Here is an image that was recently being passed around on a conservative, Tea Party group on Facebook.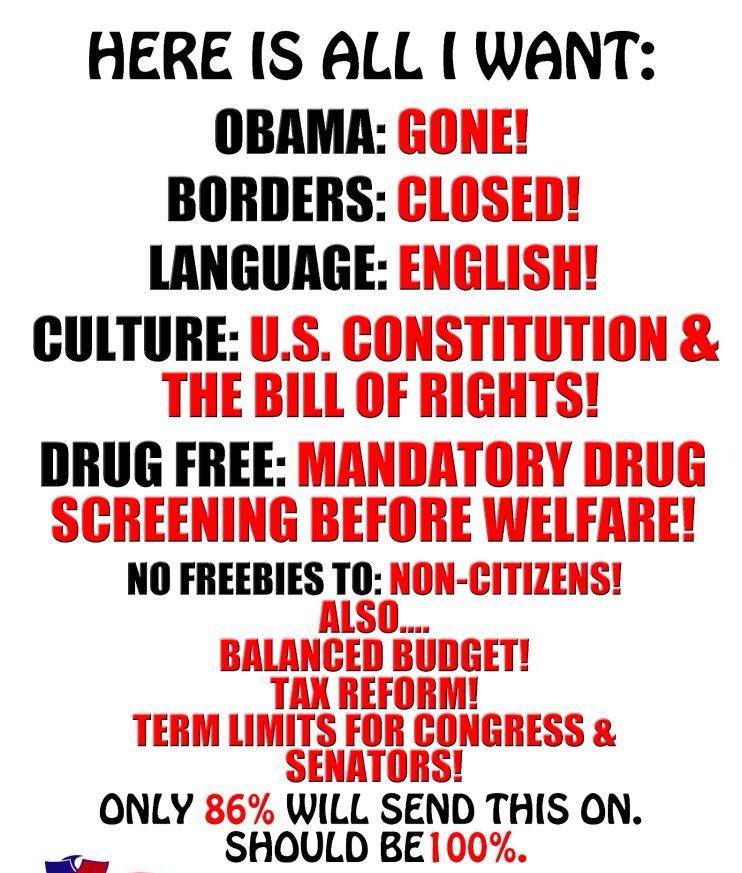 HERE IS ALL I WANT:

OBAMA: GONE!

BORDERS: CLOSED!

LANGUAGE: ENGLISH!

CULTURE: U.S. CONSTITUTION & THE BILL OF RIGHTS!

DRUG FREE: MANDATORY DRUG SCREENING BEFORE WELFARE!

NO FREEBIES TO: NON-CITIZENS!

ALSO…

BALANCED BUDGET!

TAX REFORM!

TERM LIMITS FOR CONGRESS & SENATORS!

ONLY 86% WILL SEND THIS ON. SHOULD BE 100%.
So, just to re-cap:
Conservatarian: Here's all I want: a REPUBLICAN PRESIDENT, the harshest possible BORDER FASCISM. GOVERNMENT ENFORCED LANGUAGE REQUIREMENTS. A culture of CONSTITUTION FETISHISM, PUBLIC REVERENCE FOR STATE FOUNDERS and LEGALISTIC NATIONALISM. DRUG PROHIBITION and RIGHT-WING SOCIAL ENGINEERING THROUGH THE WELFARE SYSTEM. Also, SAVING THE WELFARE STATE FOR U.S. CITIZENS WHO CONFORM TO MY FAVORED LIFESTYLE CHOICES. And 100% CONFORMITY ON QUESTIONS OF SOCIAL AND POLITICAL IMPORT. I'm for small government!
So, seriously conservatarians, if this is what you want, what you want hasn't got anything even remotely to do with liberty. If you thought that this did have something to do with liberty, then you need to re-think some of your life choices.
Nationalism is the death of liberty.