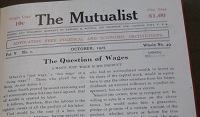 Update on some of my ongoing transcription projects for Fair Use Repository — I am still working on some typesetting and formatting for the materials in this issue, but the complete full text of The Mutualist for October 1925 is now online at Fair Use Repository. The publisher, editor, and main author of the magazine, Edward H. Fulton of Clinton, Iowa, listed this issue as Vol. V, No. 1 / Whole No. 49 of his periodical; but it is the first issue that he published under the name The Mutualist (Fulton published his magazine under a series of at least five different names between 1919 and 1928: The New Order in 1919, The 1776 American in 1920, EGO in 1921, The Egoist in 1924, and finally changed the name of the paper to The Mutualist in 1925, based on reader's responses to a poll in the last issue of The Egoist.)
Fulton's paper provided one of the major forums in the 1920s for plumb-line individualist anarchists, American mutualists, and other former members of the circle around Benjamin Tucker's paper Liberty. Around the same time as the name change, Fulton introduced a number of revivalist elements to the paper, including a new home for Jo Labadie's perennial column, Cranky Notions, and an effort to revive the format of Tucker's old On Picket Duty columns from Liberty. The issue also includes some fairly didactic utopian fiction and satirical poetry, a quote-book compilation of highly variable reliability, defenses of plumb-line anarchist views on government and private education, and some jousting with advocates of single-tax land schemes and labor-hour notes. Here's the whole issue:
Shared Article from Fair Use Repository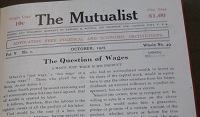 THE MUTUALIST Vol. V. No. 1, Whole No. 49 (October 1925)
Advocating Free Political and Economic Institutions
Edward H. Fulton @ fair-use.org
Read, cite and enjoy!