Targeting civilians is immoral, no matter what the circumstances.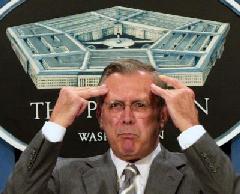 The cognitive dissonance is killing me!

Welcome to Bethlehem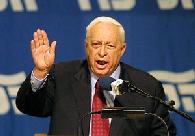 Arik Sharon bellows something about how more civilian deaths on both sides will lead to greater security.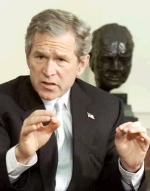 If we keep our voices down, they might not notice the stench of the bodies.
No, that's not an anti-war radical crying out against the war on Afghanistan or the possible future attack of Iraq. It's not some starry-eyed Nobel laureate peace organization. It's Donald Rumsfeld, speaking with a completely straight face, on national television, asserting the United States' position in support of the Israeli government's war on Palestine. Irony is now officially dead.
Meanwhile, the tanks rolled into Bethlehem, with $2,400,000,000 of your and my tax dollars paying for gasoline. Assaults were launched against the Ayda and Dehaishe refugee camps, with massive tank fire, mortar fire, gun clashes, and F-16s flying overhead. The IDF has attacked Red Crescent and UN ambulances, television and communication stations, and journalists.
On the other side of the world, Our Fearless Leader sits back on his ass and opines that he's doing enough already about this human rights catastrophe, that Israel has a right to defend itself and that Yasser Arafat should, somehow, be doing more to stop suicide bombing from his highly strategic position penned in his own basement and surrounded by tanks and barbed wire. Apparently the idea that Palestine might also have a right to defend itself from a brutal occupation and assault is lost on Bush. Lost on everyone in the mainstream political discourse, for that matter. This does not, of course, include a right to murder civilians in suicide bombings. But it does include a right to fight back against the brutal collective punishment assault being launched in the Occupied Territories as we speak.
Then again, perhaps I'm a bit late already for irony's memorial service. After all, for a week now, Ariel Sharon has declared that he is out to defend the safety and lives of Israeli citizens… through a scorched-earth assault on Palestine which has driven Palestinians to commit 7 suicide bombings in 7 days. Since Sharon isn't the one who has to bear the consequences of this blood-soaked war he's launched, I suppose his safety is doing just fine. Meanwhile, however, a lot of people are dying on both sides precisely because of his actions.
For further reading: