Here's a pretty old legacy post from the blog archives of Geekery Today; it was written about 20 years ago, in 2003, on the World Wide Web.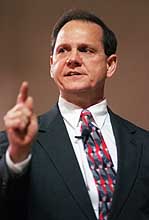 This is Roy Moore. Roy Moore recently got in trouble because he defied a federal court order to move a Ten Commandments monument that he placed in the rotunda of the Alabama Supreme Court building. Roy Moore is suspended from the Alabama Supreme Court, and is facing a trial from the Court of the Judiciary which could permanently remove him from the bench.
Roy Moore also has a huge forehead.
If Chief Justice Moore had only made use of his God-given endowments, he could have avoided this whole mess. He could have sidestepped the court battle by removing the Ten Commandments monument from the rotunda—and then having the Ten Commandments tattooed on his humongous forehead.
Wherever Roy Moore would go, the Ten Commandments would be there, showing forth the divine law from his lofty brow. The removal of the monument would satisfy the federal court order, but Roy Moore and his supporters would have the last laugh. No court could possibly rule that Roy Moore should be banned from sitting on the court because of a First Amendment-protected tattoo. And would even Judge Myron Thompson be so rude as to order that a gentleman cover his forehead with a hat while indoors? I think not.
Thank goodness that Roy Moore didn't recognize this in time. Here's to two months of freedom from theocratic rule in Alabama!