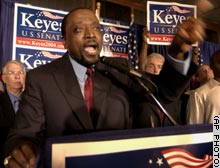 Whether he's making sense or not, Alan Keyes does not photograph well.
I honestly have no idea whatsoever who will come out ahead in the elections this upcoming November. (I think Kerry has a lot going for him but also seems to be showing some of the Democrats' pluck at pulling defeat from the jaws of victory.) But however things may look, here is one happy little note to remember as this election season progresses:
No matter how things go in November, Alan Keyes is almost certain to lose.
And that, my friends, is something to celebrate. Mazel tov!
Further reading: