Here's a pretty old post from the blog archives of Geekery Today; it was written about 18 years ago, in 2005, on the World Wide Web.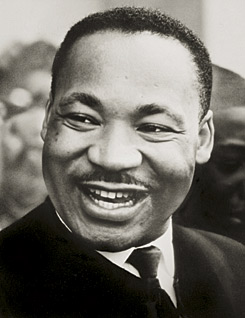 Mythistory Monday is on a holiday break this week. Since today is the observation of Martin Luther King Jr. Day, I'm inclined to take a bit of a break from knocking knuckle-headed distortions of history for a bit of a celebration of something that most of us know.
There is a lot to complain about in the way that Dr. King's life and career have been handled–both in the uncritical hagiography that has been made of his life and also in the way that that same process has obliterated so much of his real thought and political commitments from living memory that even hard Rightists who spent their college years fighting the civil rights movement tooth and nail, or happily working alongside those who did, can now come back and claim to be speaking in Dr. King's voice by piously intoning a few words snipped from a single sentence out of his most famous speech. There's a lot to complain about, but for it all, there's a hell of a lot to celebrate too. Underneath the television specials and the holy martyr imagery, there is a real man, who has been put on a pedestal, who has been abused, who has been ignored at the same time as he is piously invoked, but who, after it all, cannot be struck out of our memory and who remains a testament, in living memory, to what is possible for this world.
That's what I want to remember today: the living Dr. King. No holy martyr, but a real person, a Black preacher who found himself in the midst of the most profound struggles of American history. In spite of his work with the Montgomery Improvement Association and in forming the Southern Christian Leadership Conference, he was always more of an agitator than an organizer–a maker of speeches and a preacher of sermons who often showed up late in the game for campaigns that others had started. He was frankly prone to showboating at times, and frustrating on more than one occasion for the men and especially the women who did the long, hard, thankless work of organizing in groups such as SCLC and SNCC–from Rosa Parks to Ella Baker to Bob Moses to Fannie Lou Hamer. And yet also an indispensible man–not just as a symbol, but as a thinker and an actor and a moral guide, who gave long years of his life to the struggle to end Jim Crow, who remained, through that struggle's greatest triumphs and its darkest hours, in the face of agonizing doubt and the ugliest sorts of violence, to a new kind of nonviolent politics on behalf of freedom and compassion for all. We must avoid the lazy politics of invoking Dr. King's name as a way to deride just revolutions or calls for forceful self-defense; we have to be careful about how we universalize the lessons of the Freedom Movement; but I don't think anyone can reasonably deny that the nonviolent politics that Dr. King and Ella Baker and others developed, drawing from and expanding on the past examples of Henry David Thoreau, Margaret Sanger, and Mohandas Gandhi, is a force that has changed the world–and changed it for the better.
Jason at Negro, Please links to his MLK Day post from last year, noting, sadly, that nothing relevant has really changed since he wrote it.

David Grenier and Jeffrey Tucker remind us of Dr. King's statement against the war on Vietnam:

Even when pressed by the demands of inner truth, men do not easily assume the task of opposing their government's policy, especially in time of war. Nor does the human spirit move without great difficulty against all the apathy of conformist thought within one's own bosom and in the surrounding world. Moreover when the issues at hand seem as perplexed as they often do in the case of this dreadful conflict we are always on the verge of being mesmerized by uncertainty; but we must move on. …

As I have walked among the desperate, rejected and angry young men I have told them that Molotov cocktails and rifles would not solve their problems. I have tried to offer them my deepest compassion while maintaining my conviction that social change comes most meaningfully through nonviolent action. But they asked — and rightly so — what about Vietnam? They asked if our own nation wasn't using massive doses of violence to solve its problems, to bring about the changes it wanted. Their questions hit home, and I knew that I could never again raise my voice against the violence of the oppressed in the ghettos without having first spoken clearly to the greatest purveyor of violence in the world today — my own government. For the sake of those boys, for the sake of this government, for the sake of hundreds of thousands trembling under our violence, I cannot be silent….

These are the times for real choices and not false ones. We are at the moment when our lives must be placed on the line if our nation is to survive its own folly. Every man of humane convictions must decide on the protest that best suits his convictions, but we must all protest….

— Beyond Vietnam, 4 April 1967, New York City

Rox Populi offers an MLK Random Reader, including:

For nonviolence not only calls upon its adherents to avoid external physical violence, but it calls upon them to avoid internal violence of spirit. It calls on them to engage in that something called love. And I know it is difficult sometimes. When I say love at this point, I'm not talking about an affectionate emotion. It's nonsense to urge people, oppressed people, to love their oppressors in an affectionate sense. I'm talking about something much deeper. I'm talking about a sort of understanding, creative, redemptive goodwill for all men.

— Address at the Freedom Rally in Cobo Hall, 23 June 1963

Amazonfemme gives us this from Dr. King's acceptance speech for the Nobel Peace Prize:

I accept this award today with an abiding faith in America and an audacious faith in the future of mankind. I refuse to accept despair as the final response to the ambiguities of history. I refuse to accept the idea that the "isness" of man's present nature makes him morally incapable of reaching up for the eternal "oughtness" that forever confronts him.

I refuse to accept the idea that man is mere flotsom and jetsom in the river of life unable to influence the unfolding events which surround him. I refuse to accept the view that mankind is so tragically bound to the starless midnight of racism and war that the bright daybreak of peace and brotherhood can never become a reality.

I refuse to accept the cynical notion that nation after nation must spiral down a militaristic stairway into the hell of thermonuclear destruction. I believe that unarmed truth and unconditional love will have the final word in reality. This is why right temporarily defeated is stronger than evil triumphant.

I believe that even amid today's motor bursts and whining bullets, there is still hope for a brighter tomorrow. I believe that wounded justice, lying prostrate on the blood-flowing streets of our nations, can be lifted from this dust of shame to reign supreme among the children of men.

I have the audacity to believe that peoples everywhere can have three meals a day for their bodies, education and culture for their minds, and dignity, equality and freedom for their spirits. I believe that what self-centered men have torn down, men other-centered can build up. I still believe that one day mankind will bow before the altars of God and be crowned triumphant over war and bloodshed, and nonviolent redemptive goodwill will proclaim the rule of the land.

"And the lion and the lamb shall lie down together and every man shall sit under his own vine and fig tree and none shall be afraid."

I still believe that we shall overcome.

— Acceptance Speech at Nobel Peace Prize Ceremony, 10 December 1964

I close with two of my favorite quotes. Only one of them is by Martin Luther King Jr.; the other is about him:

It is time to reorder our national priorities. All those who now speak of good will and who praise the work of such groups as the President's Commission now have the gravest responsibility to stand up and act for the social changes that are necessary to conquer racism in America. If we as a society fail, I fear that we will learn that very shortly that racism is a sickness unto death.

— Martin Luther King Jr., 4 March 1968

And, on the subject of King's real radicalism, and the role of radicalism generally in the struggle for justice, Malcolm X has this to say:

I'll say nothing against him. At one time the whites in the United States called him a racialist, and extremist, and a Communist. Then the Black Muslims came along and the whites thanked the Lord for Martin Luther King.

— Malcolm X

That first quote, by the way, I lifted from a remix of Dr. King's speeches that I couldn't possibly do justice to with a description. You really should listen to it.
All of these things happened while my parents were in college, not 40 years ago. Think of what Dr. King's efforts, and the efforts of the countless heros–those whose names we know and the thousands of ordinary people who haven't made it into the books or the teevee specials–have meant for the world in those few years. Yes, we are living through dark days, but think of what it was like just within living memory of today. As Dr. King put it: Let us remember that the arc of the Universe is long, but it bends toward justice.
I hope so. Happy Martin Luther King Jr. Day.