Here's a pretty old post from the blog archives of Geekery Today; it was written about 17 years ago, in 2005, on the World Wide Web.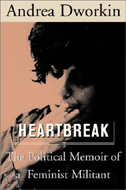 Andrea Dworkin died yesterday morning.
Update 2005-04-11: The message I reprinted below was originally sent out by Gail Dines, a feminist scholar who knew Andrea Dworkin for 20 years:
I have received many emails from list members expressing their profound sadness about Andrea's death. They have also requested information so here is what I have. Andrea had not been in good health for a long time but there was no immediate crisis from what I can gather. I spoke to her last month about arranging for her to come to a conference and health was not preventing her from travelling. However, due to a number of disabilities, travelling did present challenges. It seems that she did not feel too well on Friday night but did not go to the hospital. On Saturday morning, John Stoltenberg found her but it was too late for medical attention. Many have asked me if there is anything they can do or a place to post thoughts about Andrea's life. At the moment, her close friends are too stunned to think about a memorial service but there is talk of organizing one in the future. The people who knew her best recommend giving money in her name to the rape crisis center or battered women's shelter of you choice. There are also plans to set up a web site for us to post messages about her. I will keep you informed. I knew Andrea personally for fifteen years but I really knew her my entire adult life as her work framed my politics. I spoke to many women yesterday and we have no words to express how we feel. There is a real desire to come together to mourn her collectively so my sense is that there will be an event in the near future. As soon as I know anything more, I will post it to the list.

— LiveJournal Feminist Community 2005-04-10: Andrea Dworkin died
I don't know how to say how much her life and her work meant to women's movement. I don't know how to say how much she meant to my life. I don't have the words. I could say that she is one of the most important, controversial, uncompromising, threatening, and brilliant women of Second Wave radical feminism. I could say that her works changed my life. I could say that every cruelty and every uncharitable swipe taken at her–by the pimps and the pornographers, by self-satisfied liberal men and by critics from within the movement–was a testament to how much she mattered and how important it was that someone was there to tell the truth without flinching, that that someone was her. All of these things would be true. But they don't even begin to touch it. Nothing that I could say would.
Those of you who know something about Andrea Dworkin's life know that it has not been an easy one. The words that she spoke and the lines that she drew came out of intense pain, passionate commitment, and a deep compassion for women–women who had lived through the hell that she had lived through, and women whose struggles she made her struggle every day. I can only hope that she will have the peace that she could not have in life. And that we here can honor her by carrying on in the struggle that was her life's work.
Further Reading