Here's a pretty old post from the blog archives of Geekery Today; it was written about 18 years ago, in 2005, on the World Wide Web.
It seems like everybody is coming up with an exit strategy from Iraq now. Rox (2005-11-17) tells me that John Murtha is now a man with a plan. Even Tony Blair is trying to work something out. According to the fashion of the times, I've got an exit strategy for the U.S. and U.K. forces to consider too. The best part about it is that it doesn't set an arbitrary time-table and it only imposes three simple conditions to fulfill in order to get us out of Iraq with honor. Here's the plan: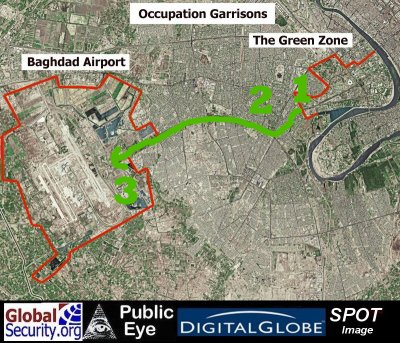 Map of metropolitan Baghdad thanks to GlobalSecurity.org.
My plan calls for:
Getting to here as quickly as you can while flying or driving safely.
Then, driving down this highway.
Then, flying home, preferably on a large jet, from here.
You might complain that this exit strategy sets a time-table. Well, not really, unless immediately counts as a schedule. But in any case it's not an arbitrary time-table. The war was never justified to begin with and the occupation continues to make things worse the longer it continues. You might complain that this exit strategy doesn't solve all of Iraq's problems, doesn't give us the opportunity to Iraqitize (sic) or internationalize or train more police officers or root out more insurgents or guide Iraq further down the primrose path to liberal democracy. I agree that it doesn't, but I consider its simplicity a virtue, not a defect. What have we been trying to do for the past 2 1/2 years, if not all that? How's that been working out for us?