Here's a pretty old post from the blog archives of Geekery Today; it was written about 18 years ago, in 2005, on the World Wide Web.
Thanks to Amanda, I recently found James Lileks' new hobby, Patriotica, a loving collection of genial homefront propaganda from World War II. Lileks' tone is jokey and sometimes downright satiric. But he makes it clear enough that that's just his usual campy, self-deprecating schtick, applied at the level of his nation-state; part of the point here is that he's collecting WWII propaganda because, deep down, he believes in it, and he thinks we have something to learn from it. And it's clear enough that his audience on the Right is getting the message. (As he comments in the Daily Bleat: New update to Patriotica here, a sad reminder of the days when nearly everyone agreed there was actually a war on, and it had to be won. As a fan at the Independent Women's Forum puts it, Those were the days when our media supported our troops! Pro-Victory writer Dadmanly wistfully remarks: For all those who think that the current administration is over-hyping the Global War on Terror, a little reminder of how they REALLY knew how to whip up the masses in WW II.)
Let's everyone get in on the campy collecting fun! Here's some submissions I'd like to see Lileks put in Patriotica. I'm sure you can soon find these collectibles from the Last Good War on loving display in Lileks' collection.
We begin with Private Joe Louis clearing it all up for us. We're going to win because we are acting as the Sword of God: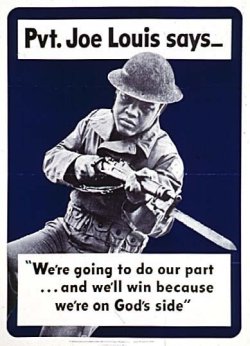 Next, there's nothing quite so genially amusing — especially for conservatives — as absolute government command over the economy. Obey the price controls, and make sure you get your meat ration, citizen! (We'll be taking the rest of it.)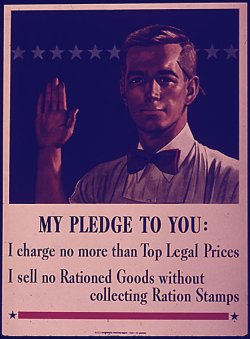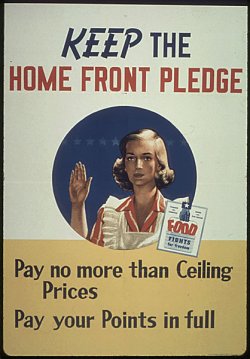 On a similar theme, we have the following adorable bit of naked attempts at intimidation, in order to whip the masses into line: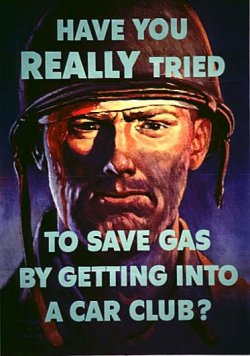 Here's some more choice bits for Lileks, also on the topic of intimidation. Specifically, a genial reminder from the government to shut the fuck up, citizen.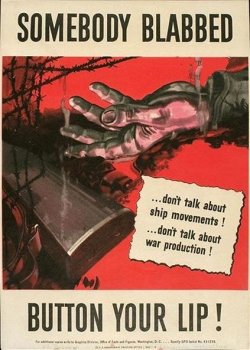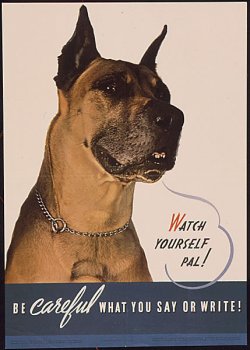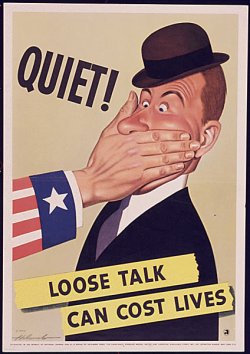 That last image is actually pretty famous. This one isn't quite so famous, in spite of being a classic combination of two great themes of American World War II propaganda: overbearing commands for silence, and violent racist caricature.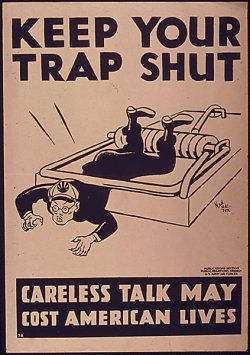 Speaking of which, here's several more I just can't wait to see in Lileks' gallery. Submitted for his approval, without further comment.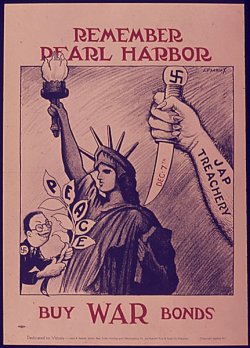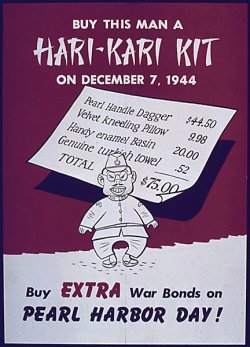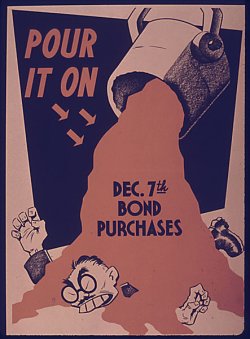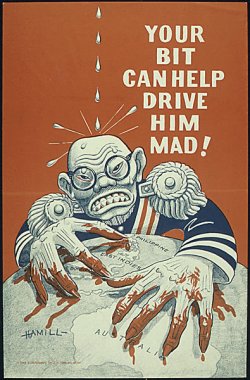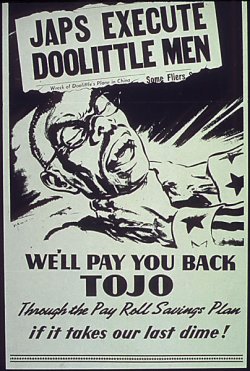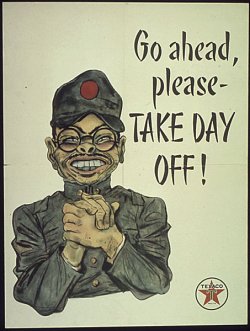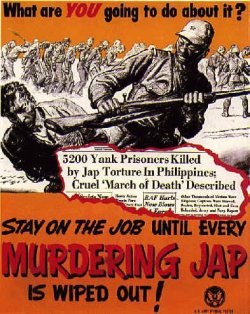 … Yeah.
I really fucking hate World War II propaganda.