Here's a pretty old post from the blog archives of Geekery Today; it was written about 17 years ago, in 2006, on the World Wide Web.
Back around Presidents' Day, David Boaz sent a communique out from Planet CATO in praise of George Washington, consisting mainly of a panegyric on G.W.'s lived example of republican virtue. We begin with the headline The Man Who Would Not Be King and move on through some of the favorite tropes of nationalist nostalgia for the Old Republic:
George Washington was the man who established the American republic. He led the revolutionary army against the British Empire, he served as the first president, and most importantly he stepped down from power.

In an era of brilliant men, Washington was not the deepest thinker. He never wrote a book or even a long essay, unlike George Mason, Thomas Jefferson, James Madison, Alexander Hamilton, and John Adams. But Washington made the ideas of the American founding real. He incarnated liberal and republican ideas in his own person, and he gave them effect through the Revolution, the Constitution, his successful presidency, and his departure from office.

What's so great about leaving office? Surely it matters more what a president does in office. But think about other great military commanders and revolutionary leaders before and after Washington–Caesar, Cromwell, Napoleon, Lenin. They all seized the power they had won and held it until death or military defeat.

… From his republican values Washington derived his abhorrence of kingship, even for himself. The writer Garry Wills called him "a virtuoso of resignations." He gave up power not once but twice — at the end of the revolutionary war, when he resigned his military commission and returned to Mount Vernon, and again at the end of his second term as president, when he refused entreaties to seek a third term. In doing so, he set a standard for American presidents that lasted until the presidency of Franklin D. Roosevelt, whose taste for power was stronger than the 150 years of precedent set by Washington.
And what did Washington do when, out of his abhorrence of kingship, even for himself, he stepped down and returned home? Here's the way Boaz puts it: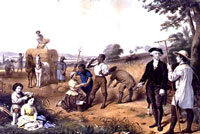 Master George, farming
What values did Washington's character express? He was a farmer, a businessman, an enthusiast for commerce. As a man of the Enlightenment, he was deeply interested in scientific farming. His letters on running Mount Vernon are longer than letters on running the government. (Of course, in 1795 more people worked at Mount Vernon than in the entire executive branch of the federal government.)
Ah, yes, his farming, with his numerous workers at Mount Vernon.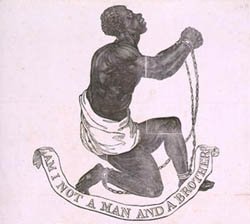 You see, the thing about Washington is that while he was busy Not Being a King by returning to farm at Mount Vernon, he was personally claiming the authority to rule as Lord and Master over several hundred of his fellow human-beings, held as chattel slaves, with more absolute and invasive authority over his subjects than any Bonaparte ever even dreamed of exercising over the common men and women of France. As the landed lord of one of Virginia's largest slave-plantations he demanded absolute control over their conduct, took every last penny earned by their labor, and reserved the right to exercise almost any physical brutality that he saw fit to inflict in order to punish or deter challenges to his authority. (And that is, note, not a matter of whether or not he actually acted unusually harshly towards any given slave; it's part and parcel of what being a grand Virginia slave-lord meant.) The Man Who Would Not Be King arrogantly claimed for himself rights and prerogatives that merely political tyrants would have trembled to assert, solely on the basis of his money and his position within the racial aristocracy of the American South.
Washington was certainly an interesting character; studying his life may even have some things to teach us. But sentimental lies have nothing to teach us at all, and the ridiculous notion that Washington, the slave-driver of hundreds, abhorred tyranny or arbitrary power is nothing more or less than a sentimental lie. He may very well have abhorred the idea of ruling over fellow white people; he may very well have disliked crowns and robes as a point of fashion; but he had no problem maintaining absolute tyranny over hundreds of blacks, spanning his life from the age of 11 until his death. And if you think that's good enough to count as exemplifying republican virtue, as abhorring kingship, or as retiring from a seat of power to a private life, then you need to think a lot harder.
Further reading: