Here's a pretty old post from the blog archives of Geekery Today; it was written about 17 years ago, in 2006, on the World Wide Web.
A head to head on ethics and legal authority, which may be of interest in light of recent squabbles.
We're often reminded that America is a nation of immigrants, implying that we're coldhearted to restrict immigration in any way. But the new Americans reaching our shores in the late 1800s and early 1900s were legal immigrants. … We must reject amnesty for illegal immigrants in any form. We cannot continue to reward lawbreakers and expect things to get better. If we reward millions who came here illegally, surely millions more will follow suit. Ten years from now we will be in the same position, with a whole new generation of lawbreakers seeking amnesty.

Amnesty also insults legal immigrants, who face years of paperwork and long waits to earn precious American citizenship.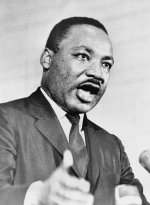 You express a great deal of anxiety over our willingness to break laws. This is certainly a legitimate concern. Since we so diligently urge people to obey the Supreme Court's decision of 1954 outlawing segregation in the public schools, it is rather strange and paradoxical to find us consciously breaking laws. One may well ask: How can you advocate breaking some laws and obeying others? The answer is found in the fact that there are two types of laws: There are just and there are unjust laws. I would be the first to advocate obeying just laws. One has not only a legal but a moral responsibility to obey just laws. Conversely, one has a moral responsibility to disobey unjust laws. I would agree with Saint Augustine that An unjust law is no law at all.
Dr. King wins.
Further reading