Here's a pretty old post from the blog archives of Geekery Today; it was written about 15 years ago, in 2008, on the World Wide Web.
Other than setting off explosions and taking strong drink, indulging in nationalist nostalgia is probably the most popular way to celebrate July 4th in the U.S. of A. It is, we are told, a day to sing national hymns, pledge our allegiance, have a parade, say a few words about the glory of this old Union, and fly the military colors from every available flagpole. We are told that it is, above all, a day sanctified for celebrating the birth of a new nation.
No it isn't.
July 4th is not the anniversary of the birth of a new government; it is the anniversary of the ignominious death of a tyranny. On July 4th, 1776, there was no such thing as the United States of America, and the events of that day did nothing to create it. The regime under which we live today was not proclaimed until almost a decade later, on September 17, 1787. What was proclaimed on July 4th was not the establishment of a new government, but the dissolution of all political allegiance to the old one. All for the best: in this secessionist republic of one, we see no reason to celebrate the birth and rise of a foreign power; and in any case a transfer of power from London to Washington, from King George III to President George I, is no more worthy of celebration than any other coup d'etat. What is worth celebrating is this:
We hold these truths to be self-evident, that all men are created equal, that they are endowed by their Creator with certain unalienable Rights, that among these are Life, Liberty and the pursuit of Happiness. —That to secure these rights, Governments are instituted among Men, deriving their just powers from the consent of the governed, —That whenever any Form of Government becomes destructive of these ends, it is the Right of the People to alter or to abolish it .... [W]hen a long train of abuses and usurpations, pursuing invariably the same Object evinces a design to reduce them under absolute Despotism, it is their right, it is their duty, to throw off such Government, and to provide new Guards for their future security.

— Declaration of Independence, 4 July 1776
That is, the revolutionary doctrine that we all, each of us, are the equal of every puffed-up prince and President–that as such you, personally, have every right to refuse the arbitrary orders of tyrants–to ignore their sanctimonious claims of sovereignty–to sever all political connections if you want–and to defend yourself from any usurper who would try to rule you without your consent. There is no man or woman on this earth who has the natural right to rule over you, and you have every right, whenever and wherever you will to do so, to oppose, withdraw, resist, and thus stand aright as a free and sovereign human being.
The logical conclusion of the radical equality proclaimed by the Declaration is not, however, what Jefferson or any of the other quasi-revolutionists thought it was. It is not home rule, and it is not republican government. It is not majoritarian democracy or the elective kingship that passes for the Presidency today. It is not democratic government or limited government; it is not any kind of government at all. If you, personally, are equal in rightful authority to your would-be rulers, and so have every right to tell them where they can go promulgate their law; if you, personally, have every right to refuse their demands and nullify their authority over you, at your discretion; if you have every right to withdraw your allegiance, and every right to defend yourself if they should come after you; then the logical conclusion is not popular sovereignty, but individual sovereignty, for each of us, which is to say, anarchy. So when a self-styled Progressive Patriot like Russ Feingold, arbitrary Senator over the state of Wisconsin, utters something like this, in opposing the efforts of the efforts of the arbitrary Congress over the United States to implement an unapologetically tyrannical regime of government eavesdropping and surveillance:
I teased some of my colleagues and said we can celebrate the Constitution on July 4th and maybe when we come back you'll decide not to tear it up.
… We should applaud the political cause, but recognize the reasons given for the counter-historical bunk that they are. July 4th had nothing to do with begging the existing government to abide by the promises supposedly made in its own Constitution, or with trying to get the powers that be to exercise their better natures. The throne of the Constitution, or of the Law, or of the Majority, is no more dignified or sacred than the old thrones of the Czars and Sultans. Let's not bow and scrape before them. William Lloyd Garrison, for one, knew what this Revolutionary anniversary was all about, and 154 years ago today, in Framingham, Massachusetts, he showed how you ought to celebrate the Constitution on July 4th: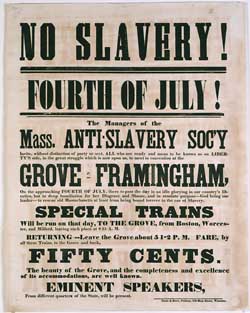 The rally began with a prayer and a hymn. Then Garrison launched into one of the most controversial performances of his career. To-day, we are called to celebrate the seventy-eighth anniversary of American Independence. In what spirit? he asked, with what purpose? to what end? The Declaration of Independence had declared that all men are created equal … It is not a declaration of equality of property, bodily strength or beauty, intellectually or moral development, industrial or inventive powers, but equality of RIGHTS–not of one race, but of all races.

—Massachussets Historical Society, July 2005

We have proved recreant to our own faith, false to our own standard, treacherous to the trust committed to our hands; so that, instead of helping to extend the blessings of freedom, we have mightily served the cause of tyranny throughout the world. Garrison then spoke about the prospects for the success of the revolutionary spirit within the nation, prospects he regarded as dismal because of the insatiable greed, boundless rapacity, and profligate disregard of justice prevalent at the time. He concluded his speech by asserting, Such is our condition, such are our prospects, as a people, on the 4th of July, 1854! Setting aside his manuscript, he told the assembly that he should now proceed to perform an action which would be the testimony of his own soul to all present, of the estimation in which he held the pro-slavery laws and deeds of the nation …

— from Thoreau: Lecture 43, 4 July, 1854

Producing a copy of the Fugitive Slave Law, he set fire to it, and it burst to ashes. Using an old and well-known phrase, he said, And let all the people say, Amen; and a unanimous cheer and shout of Amen burst from the vast audience. In like manner, Mr. Garrison burned the decision of Edward G. Loring in the case of Anthony Burns, and the late charge of Judge Benjamin R. Curtis to the United States Grand Jury in reference to the treasonable assault upon the Court House for the rescue of the fugitive–the multitude ratifying the fiery immolation with shouts of applause. Then holding up the U.S. Constitution, he branded it as the source and parent of all the other atrocities,–a covenant with death, and an agreement with hell,–and consumed it to ashes on the spot, exclaiming, So perish all compromises with tyranny! And let all the people say, Amen! A tremendous shout of Amen! went up to heaven in ratification of the deed, mingled with a few hisses and wrathful exclamations from some who were evidently in a rowdyish state of mind, but who were at once cowed by the popular feeling.

–from The Liberator, 7 July 1854 (boldface added)
Today is not a day for nationalist bromides; least of all is it a day for government or its laws or its foot-soldiers. It's a day for radicals and revolutionaries. A day to proclaim independence, and a day to remember that the American Revolution, if it was worth anything, is far from over. Here is how Frederick Douglass, a refugee from Southern slavery who became one of the United States' most celebrated orators, put it back in July of 1852:
Fellow-citizens, pardon me, allow me to ask, why am I called upon to speak here to-day? What have I, or those I represent, to do with your national independence? Are the great principles of political freedom and of natural justice, embodied in that Declaration of Independence, extended to us? and am I, therefore, called upon to bring our humble offering to the national altar, and to confess the benefits and express devout gratitude for the blessings resulting from your independence to us?

…

Fellow-citizens; above your national, tumultous joy, I hear the mournful wail of millions! whose chains, heavy and grievous yesterday, are, to-day, rendered more intolerable by the jubilee shouts that reach them. If I do forget, if I do not faithfully remember those bleeding children of sorrow this day, may my right hand forget her cunning, and may my tongue cleave to the roof of my mouth! To forget them, to pass lightly over their wrongs, and to chime in with the popular theme, would be treason most scandalous and shocking, and would make me a reproach before God and the world. My subject, then fellow-citizens, is AMERICAN SLAVERY. I shall see, this day, and its popular characteristics, from the slave's point of view. Standing, there, identified with the American bondman, making his wrongs mine, I do not hesitate to declare, with all my soul, that the character and conduct of this nation never looked blacker to me than on this 4th of July! Whether we turn to the declarations of the past, or to the professions of the present, the conduct of the nation seems equally hideous and revolting. America is false to the past, false to the present, and solemnly binds herself to be false to the future. Standing with God and the crushed and bleeding slave on this occasion, I will, in the name of humanity which is outraged, in the name of liberty which is fettered, in the name of the constitution and the Bible, which are disregarded and trampled upon, dare to call in question and to denounce, with all the emphasis I can command, everything that serves to perpetuate slavery–the great sin and shame of America! I will not equivocate; I will not excuse; I will use the severest language I can command; and yet not one word shall escape me that any man, whose judgement is not blinded by prejudice, or who is not at heart a slaveholder, shall not confess to be right and just.

But I fancy I hear some one of my audience say, it is just in this circumstance that you and your brother abolitionists fail to make a favorable impression on the public mind. Would you argue more, and denounce less, would you persuade more, and rebuke less, your cause would be much more likely to succeed. But, I submit, where all is plain there is nothing to be argued. What point in the anti-slavery creed would you have me argue? On what branch of the subject do the people of this country need light? Must I undertake to prove that the slave is a man? That point is conceded already. Nobody doubts it. The slaveholders themselves acknowledge it in the enactment of laws for their government. They acknowledge it when they punish disobedience on the part of the slave. There are seventy-two crimes in the State of Virginia, which, if committed by a black man, (no matter how ignorant he be), subject him to the punishment of death; while only two of the same crimes will subject a white man to the like punishment. What is this but the acknowledgement that the slave is a moral, intellectual and responsible being? The manhood of the slave is conceded. It is admitted in the fact that Southern statute books are covered with enactments forbidding, under severe fines and penalties, the teaching of the slave to read or to write. When you can point to any such laws, in reference to the beasts of the field, then I may consent to argue the manhood of the slave. When the dogs in your streets, when the fowls of the air, when the cattle on your hills, when the fish of the sea, and the reptiles that crawl, shall be unable to distinguish the slave from a brute, there will I argue with you that the slave is a man!

For the present, it is enough to affirm the equal manhood of the negro race. Is it not astonishing that, while we are ploughing, planting and reaping, using all kinds of mechanical tools, erecting houses, constructing bridges, building ships, working in metals of brass, iron, copper, silver and gold; that, while we are reading, writing and cyphering, acting as clerks, merchants and secretaries, having among us lawyers, doctors, ministers, poets, authors, editors, orators and teachers; that, while we are engaged in all manner of enterprises common to other men, digging gold in California, capturing the whale in the Pacific, feeding sheep and cattle on the hill-side, living, moving, acting, thinking, planning, living in families as husbands, wives and children, and, above all, confessing and worshipping the Christian's God, and looking hopefully for life and immortality beyond the grave, we are called upon to prove that we are men!

Would you have me argue that man is entitled to liberty? that he is the rightful owner of his own body? You have already declared it. Must I argue the wrongfulness of slavery? Is that a question for Republicans? Is it to be settled by the rules of logic and argumentation, as a matter beset with great difficulty, involving a doubtful application of the principle of justice, hard to be understood? How should I look to-day, in the presence of Americans, dividing, and subdividing a discourse, to show that men have a natural right to freedom? speaking of it relatively, and positively, negatively, and affirmatively. To do so, would be to make myself ridiculous, and lo offer an insult to your understanding. There is not a man beneath the canopy of heaven, that does not know that slavery is wrong for him.

What, am I to argue that it is wrong to make men brutes, to rob them of their liberty, to work them without wages, to keep them ignorant of their relations to their fellow men, to beat them with sticks, to flay their flesh with the lash, to load their limbs with irons, to hunt them with dogs, to sell them at auction, to sunder their families, to knock out their teeth, to burn their flesh, to starve them into obedience and submission to their masters? Must I argue that a system thus marked with blood, and stained with pollution, is wrong? No! I will not. I have better employments for my time and strength, than such arguments would imply.

What, then, remains to be argued? Is it that slavery is not divine; that God did not establish it; that our doctors of divinity are mistaken? There is blasphemy in the thought. That which is inhuman, cannot be divine! Who can reason on such a proposition? They that can, may; I cannot. The time for such argument is past.

At a time like this, scorching irony, not convincing argument, is needed. O! had I the ability, and could I reach the nation's ear, I would, to-day, pour out a fiery stream of biting ridicule, blasting reproach, withering sarcasm, and stern rebuke. For it is not light that is needed, but fire; it is not the gentle shower, but thunder. We need the storm, the whirlwind, and the earthquake. The feeling of the nation must be quickened; the conscience of the nation must be roused; the propriety of the nation must be startled; the hypocrisy of the nation must be exposed; and its crimes against God and man must be proclaimed and denounced.

What, to the American slave, is your 4th of July? I answer: a day that reveals to him, more than all other days in the year, the gross injustice and cruelty to which he is the constant victim. To him, your celebration is a sham; your boasted liberty, an unholy license; your national greatness, swelling vanity; your sounds of rejoicing are empty and heartless; your denunciations of tyrants, brass fronted impudence; your shouts of liberty and equality, hollow mockery; your prayers and hymns, your sermons and thanksgivings, with all your religious parade, and solemnity, are, to him, mere bombast, fraud, deception, impiety, and hypocrisy–a thin veil to cover up crimes which would disgrace a nation of savages. There is not a nation on the earth guilty of practices, more shocking and bloody, than are the people of these United States, at this very hour.

— Frederick Douglass (1852): What to the Slave is the Fourth of July?
And let the people say, Amen.
Happy Revolution Day. Let's shut off the Lee Greenwood, and take down that damned flag. It's time to celebrate the day under a new banner. One which reads:
All power to the people!
And:
No truce with Kings!
And:
Anarchy is the radical notion that other people are not your property.
Other orations: