Here's a pretty old post from the blog archives of Geekery Today; it was written about 15 years ago, in 2008, on the World Wide Web.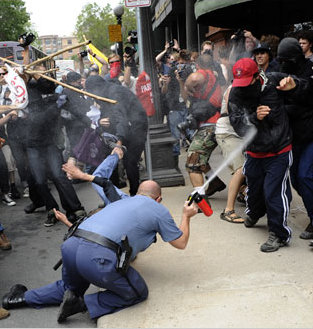 From the New York Times (2008-09-01): As Throngs of Protesters Hit Streets, Dozens Are Arrested After Clashes:
Elsewhere in St. Paul, a prominent Democratic Party strategist, Donna Brazile, was hit by pepper spray while trying to walk around protesters outside the convention hall, Ms. Brazile said in an interview.

I got a strong whiff — just toxic — and my head and throat are still hurting, said Ms. Brazile, who appears on CNN as a political analyst. I'll avoid the protesters tomorrow.
Wouldn't it have been more to the point for her to avoid the cops?
See also: