Here's a pretty old post from the blog archives of Geekery Today; it was written about 14 years ago, in 2009, on the World Wide Web.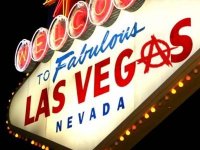 ALLies,
In honor of thefirst anniversary of the weekly Vegas Anarchist Cafe, and in connection with the opening of a new school year on UNLV's campus, Southern Nevada ALL has helped to organize a line-up of special programming the A-Cafe's Free Speech Soapbox Series, to offer some opportunities for kick-starting some engaging conversations about Anarchy, about the ideas of Anarchism in theory and practice, and about how Anarchist ideals of free association, mutual aid, DIY social change, decentralized resistance, and direct action can apply to our struggles, passions, and dreams for our own community here in Vegas.
I'm happy to announce that for the first event, which will be held at this week's A-Cafe on Thursday 27 August 2009, I will be giving a special talk, **What Is Anarchism? to discuss the ideals of Anarchism in theory and practice, the meaning and reasons for Anarchism's opposition to the state, the benefits of a society without rulers or domination, and correcting common misconceptions and replying to common objections about Anarchism, Anarchists, and Anarchy. For anyone curious about the ideas of philosophical Anarchism, or interested in the conversation.
WHAT: Talk by Vegas ALLy CHARLES JOHNSON on WHAT IS ANARCHISM?

WHERE: Weekly Anarchist Cafe @ the Coffee Bean & Tea Leaf, Running Rebel Plaza (4550 S. Maryland Pkwy, right across the street from UNLV)

WHEN: This Thursday, 27 August 2009 6:00pm – 7:00pm. The regular A-Cafe informal meet-up and discussion will continue after the talk, from about 7:00pm to 8:00pm.

WHO: Anyone curious about, or interested in conversation about, the ideas of Anarchism.
If you're in the Vegas area (or even if you're not), come on out for what I hope to be an engaging back-and-forth, and a good kick-start to the conversation about Anarchist ideals in our community. It'd be great to see you there. If you know any friends, family, coworkers, or anyone else around abouts who might be curious or interested in conversation about Anarchism — whether they are themselves (A)s or not — then please do forward the announcement on to them
As always, the Anarchist Cafe will begin on Thursday at 6:00 PM. The talk will begin shortly after 6:00 and run for about 45 minutes, with time set aside afterwards for Q&A and conversation. After the formal Q&A has ended, we'll continue with our usual informal chat until the end of the A-Cafe at 8:00pm.
This week's presentation is part of the Free Speech Soapbox Series at Las Vegas Anarchist Cafe — a series of presentations, speeches, programming, and free speech 4open mics for the first hour of the weekly A-Cafe (6:00–7:00pm). Future Soapbox events are already being scheduled; if you're in Vegas, or will be passing through, and are interested in giving a talk yourself — or know someone you'd be interested in hearing talk — about an issue you care about, a project you're working on, a local group you support, or a how-to for a skill you'd like to share with fellow Anarchists — this is your time and we all have something to say or do that can help out our ALLies. Contact us for more details or to sign up.
Hope to see y'ALL there!
See also: