Here's an old post from the blog archives of Geekery Today; it was written about 7 years ago, in 2016, on the World Wide Web.
Excellent. Bring it on. Let's re-impeach Chief Justice Roy Moore.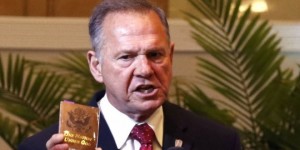 Moore insisted Wednesday that his hastily called news conference was merely an opportunity for him to address the many complaints against him and not an indication that charges from the Judicial Inquiry Commission were forthcoming.

However, a source familiar with Moore's case said Tuesday that the JIC had completed its review and was in the process of bringing charges against the chief justice. It would be the second time such charges were brought – the first coming in 2003 when Moore defied a federal court order to remove a large Ten Commandments statue from the judicial building.

A complaint filed by Southern Poverty Law Center president Richard Cohen against Moore appears to be the primary focus of the JIC charges, according to the source. Cohen's complaint was several pages long and provided exhibits detailing specific instances in which Cohen believed Moore violated certain canons of judicial ethics.

Moore and Staver dismissed Cohen's complaint as politically motivated and quickly tied the SPLC to a known transvestite named Ambrosia Starling. Moore went a step farther while discussing Starling's officiating of a mock same-sex wedding on the judicial building steps, saying that transsexualism is a known mental illness.

–Josh Moon, Moore: Judicial complaints are politically motivated
Montgomery Advertiser, 27 April 2016
And hell, while you're at it, why not —
Let's impeach the Governor, too. Come on, y'all only need 11 more signatures.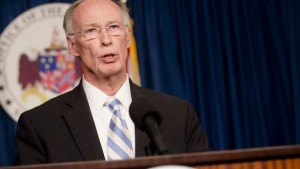 MONTGOMERY, AL (WBRC) – The Alabama House of Representatives voted to set up a process for impeachment, but added a rule that may have killed articles of impeachment currently pending in the legislative session.

House members voted 78 – 14 to approve a resolution introduced by Rep. Matt Fridy, a Montevallo Republican, to create a process to handle impeachment legislation.

The resolution empowers the House Judiciary Committee to begin an investigation when 21 House members bring impeachment charges. The committee could meet at any time, even when the legislature is not in session.

The requirement of 21 House members to bring impeachment charges was an amendment during the debate. The initial resolution called for 10 members to bring charges. Raising the number of co-sponsors may kill a bill by Rep. Ed Henry, a Hartselle Republican.

Rep. Henry currently has 11 co-sponsors on a bill listing four articles of impeachment against Gov. Robert Bentley. Henry says Gov. Bentley should be impeached for willful neglect of duty, corruption in office, incompetency and moral turpitude.

–Rick Journey, Ala. House sets up impeachment process but may have killed current impeachment bill against Bentley
WBRC FOX 6 News, 26 April 2016
There are few outcomes I can imagine that would be even better than once again removing Roy Moore from office, and paralyzing the state legislature in months of scorched-earth intra-party power struggles. ¡Que se vayan todos! Let's impeach everybody.