Yesterday, Irish voters narrowly rejected a referendum that would have tightened Ireland's constitutional restrictions against abortion, which are already among the harshest restrictions in Europe.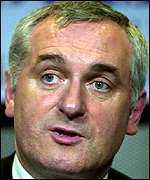 Ahem, I seem to have lost this one. – Irish Taoiseach Bertie Ahern
Abortion is already illegal under the Irish constitution, but the rejected amendment sought to tighten restrictions by overturning an Irish Supreme Court ruling which authorized therapeutic abortions when the mother threatened to commit suicide, and by imposing harsh criminal penalties for women who received abortions, and the doctors who performed the procedure. Currently, nearly 7,000 Irish women receive abortions each year, but nearly all must have them performed in legal clinics across the Irish Sea in the United Kingdom. Thankfully, EU immigration protections prevent the Irish government from stopping women from leaving the country.
629,041 Irish voters rejected the amendment, while 618,485 voted in favor of it. In urban centers, the vote was much more lopsided, with some 61% of Dublin voters rejecting the new restrictions. Anti-abortion proponents of the referendum urged that it be adopted because a rejection might lead down a slippery slope towards abortion-on-demand in Ireland.
I'm not holding my breath, but let's hope they're right.
For further reading: