Here's a pretty old post from the blog archives of Geekery Today; it was written about 19 years ago, in 2004, on the World Wide Web.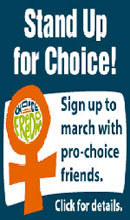 March for Choice on April 25!
One more week until L. and I are headed to Washington DC, to join what is likely to be the largest pro-choice march in the nation's history. The hotel reservations have been placed; breakfast will come from Food Not Bombs; all that we need now is an oil change for the car and some posterboard for the signs. I'm getting really excited about the march: Washington is a great place to visit, the march will be an awesome experience, and I hope that this will be an important step towards lighting a fire under John Kerry and the Democrats to start pushing abortion rights, hard, to defeat George W. Bush. (And yes, I said abortion rights–not some mealy-mouthed incantation of the word choice that actually means nothing. We don't need more of that after 8 years of Clintonian apologies for being pro-choice. We need a movement, and pro-choice politicians, who will be unapologetic about supporting women's rights to control their own uterus. Morality is on our side, not the side of male power and coercion.) The fact is that if the Democrats made the upcoming election a referendum on abortion rights, they would win easily; and with this election season march we have a chance to catapault the issue into the center of the debate. Let's hope that our putative allies have the sense to pick up the ball and run with it.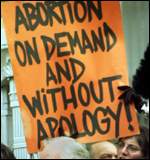 I want a sign just like this one.
Above all else, let's make this March everything that the pro-choice movement should be: radical, agitating, unapologetic, aware and proud of the radical feminist movement that fought and won the first battles only thirty years ago. These are women's lives, people, not something that we should have to bandy crooked words with a bunch of dickheads in government office over, or quibble with men in black robes over compelling State interests to justify. Let's move the movement back to the passion, conviction, energy, creativity, and justice of its radical feminist roots. L. and I are making up our own signs (I'm sure there will be more than enough people to carry NOW and FMF banners without our help…); we haven't made a final decision on the slogans yet, but here's some ideas we've been mulling over:
ABORTION ON DEMAND AND WITHOUT APOLOGY!
OUTLAWING ABORTION IS STATE VIOLENCE AGAINST WOMEN
Men don't get pregnant, men don't bear children. Men just make laws.
RADICAL FEMINISM: Because your body belongs to you, not Jerry Falwell
What do you think? And who else is coming to the March next weekend? Let me know and maybe we can grab some dinner together in DC. Hope to see you there!