Here's a pretty old post from the blog archives of Geekery Today; it was written about 17 years ago, in 2005, on the World Wide Web.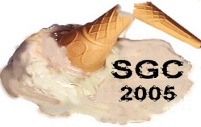 The Seventh Annual Southern Girls Convention will be held June 17-19, 2005, in Baton Rouge, Louisiana.
Every year for the past 6 years, the Southern Girls Convention has brought out hundreds of rad folks to meet and to talk and to learn from each other–learning skills for activism and everyday life, sharing our experiences organizing deep in the heart of the so-called Red States, and taking it home to raise hell and work together to make our homes freer, safer, more just, and more loving places to be. It's a place for Southern women and pro-woman activists to find each other, get together, work out our plans and our priorities, and begin to build the communities we want to live in in our own hometowns.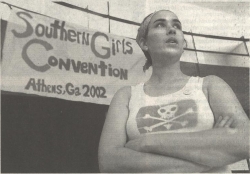 SGC'02 organizer Natasha Murphy
SGC is an unapologetically feminist, bottom-up, grassroots meeting. Each year it's held in a different Southern community and put together with a new set of local organizers, working together with organizers from years past (if you didn't know, I'm one myself; together with my friends Claire Rumore and Ailecia Ruscin, I helped put on the third annual Southern Girls Convention, which drew about 600 radical activists to Auburn, Alabama). The convention's been held in Memphis, Tennessee; Louisville, Kentucky; Auburn, Alabama; Athens, Georgia; and Asheville, North Carolina; last year it returned to its birthplace in Memphis, and this year the seventh annual Southern Girls Convention will be held on June 17-19, 2005, in Baton Rouge, Louisiana. We're working to reconnect with the radical history of the American South–the cradle of the Confederacy and the birthplace of the Klan, yes, but also–lest we forget–the home of the modern Civil Rights movement, the birthplace of SNCC, and the home of women like Sarah and Angelina Grimke, Ida B. Wells, Rosa Parks, Fannie Lou Hamer, Elaine Brown, Casey Hayden, Rita Mae Brown, and others. We're working to build an infrastructure for women's liberation in the South — because the South is our home, it needs to change, and by God we're the ones to do it.
There will be a weekend of workshops and social events for sharing skills, learning from each other about issues and campaigns, and just meeting and talking and networking (as they say) with each other. There will be music shows, free food, and a talk by bi feminist artist Magdalen Hsu-Li. There will also be childcare for children over the age of one, incidentally, and children will also be welcome in the convention space. Interested? Consider registering to attend. While you're at it, if you have a skill you'd like to share or an issue or organization you'd like to talk with radical folks from across the South about, you should consider proposing a workshop! Part of the point of Southern Girls Convention is that we can all learn from each other; we don't need professional activists coming in from the North to lecture us about how to organize ourselves. (N.B.: this doesn't mean that professional activists from the North will be unwelcome at SGC; if you are one, we'd love for you to come. Just don't expect it to be all about you!)
Here's the announcement from this year's organizers. Be sure to spread the word to anyone you think might be interested!
We are counting on you to spread the word for us! Please forward this message to any friends, family, colleagues, bulletin boards, listservs, or web pages that might be interested in the event!

---

Seventh Annual Southern Girls Convention

June 17-19, 2005 Baton Rouge, Louisiana

WWW: http://www.southerngirlsconvention.org/2005/

WHAT IS SOUTHERN GIRLS CONVENTION?

The Southern Girls Convention is an annual grassroots meeting for networking, organizing, educating, agitating, and activism, devoted to empowering women and girls in the South and furthering the struggle for social justice. Each year's convention is hosted by a different Southern community and facilitated by local organizers. Past conventions have brought together hundreds of folks in Memphis, Tennessee; Louisville, Kentucky; Auburn, Alabama; Athens, Georgia; and Asheville, North Carolina.

This year's convention will be heading as deep South as you can get: Southern Girls Convention invites activists from across the country to meet in BATON ROUGE, LOUISIANA on the weekend of June 17-19, 2005. Hundreds of activists will meet for discussion, action, and entertainment devoted to building pro-woman community in the South.

WHAT CAN I DO THERE?

Southern Girls Convention is based around discussions, workshops, and presentations which give participants the opportunity to share skills, share ideas, discuss important issues, organize campaigns, and have fun as a community. All workshops are organized and facilitated by the participants themselves–that means you! Other events will include a talk by Southern bi feminist musician MAGDALEN HSU-LI, an "un-shop" swap meet, nightly music shows, and tables for participants and organizations to display information, zines, art, and things they have made.

SGC also allows hundreds of activists from across the country to meet, network, strategize, and organize in their efforts on behalf of social justice. Feel free to bring video projects, zines, writing, and anything you are interested in sharing to the convention.

Childcare will be available at the convention space.

Past workshops at SGC have included:

Group discussions on fatphobia, abortion rights and access, radical parenting, "100 Years of Revolutionary Wimmin," the criminalization of women, "Queer and Trans Youth in the South," gender bias in schools, sexism in the activist community, "Marginalization and Tokenization within the Grrrl Movement," roles and strategies for boys in the struggle against male supremacy, and "Radical, Southern, and All Fired Up–Where Do We Go From Here?"

Skill-sharing on radical cheerleading, community access television, gun safety and self-defense, workplace union organizing, screen printing, sexercises, Internet organizing, and how to start a consciousness-raising group.

Organizing meetings for campaigns from Amnesty International, the Coalition of Immokalee Workers, and Planned Parenthood, and state-by-state caucuses for people to meet fellow organizers in their own area.

FOR MORE INFORMATION:

Website: http://www.southerngirlsconvention.org/2005/
E-mail: SGC'05 Organizers organizers@southerngirlsconvention.org

PLEASE FORWARD THIS E-MAIL FAR AND WIDE! Send it to friends and e-mail lists, post it on your website, blog, or bulletin board… we are counting on YOU to help us spread the word. A fresh copy of the e-mail can be sent from our website at: http://www.southerngirlsconvention.org/2005/spread-the-word

Thank you, and we hope to see you there!

Southern Girls Convention 2005 Organizers
Baton Rouge, Louisiana
I'm doing my part with this note and a banner at the top of the page. If you support SGC and can help out by forwarding an e-mail to activist groups you're a member of, putting up a banner, posting on your website, or whatever you like, don't hesitate to do so–or to get in touch with me or with the Baton Rouge organizers to see what you can do to help us out.
Further reading: