Here's a pretty old post from the blog archives of Geekery Today; it was written about 16 years ago, in 2007, on the World Wide Web.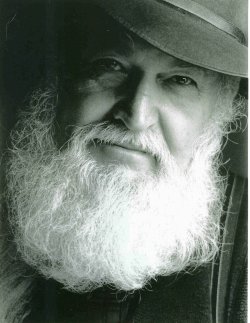 Sad news to report today. Utah Phillips — folk singer, anarchist, pacifist, and Wobbly story-teller — has been forced to retire from touring by a severe heart condition. The Wobblies in Minneapolis-St. Paul are organizing a benefit concert to help him live a decent life and defray his overwhelming medical bills. Here's a press release with the details. Spread the word, especially to anyone you know in the Twin Cities.
Utah Phillips Benefit Concert
Saturday, December 15th — 6 PM

The Golden Voice of the Great Southwest has a bum ticker:

U. Utah Phillips, a former NPR host who was blacklisted in the state of Utah after an unsuccessful bid for U.S. Senate in 1968 on the Peace and Freedom party ticket can be described as a raconteur extraordinaire, a radical historian well-versed in the sorrowful details of the bloodiest social justice struggles of the last century, a hobo, and one hell of a musician whose songs can break your heart and bring your blood to a boil.

Sadly, Utah Phillips has recently been forced to quit performing because of Cheyne-Stokes – a respiratory condition that causes severe disturbances in breathing and debilitating heart irregularities, leaving him with no means of support.

So on Saturday, December 15th, come join friends, admirers, and kindred misfits at the Eagle's Club (2507 E. 25th St) at 6 PM for a benefit concert featuring:

Duluth's own favorite son, Charlie Parr (6 PM sharp)
alt-country rocker Bernie King
the sad folkie from North East, Gabe Barnett
fiddle player Mary Dushane
the mustachioed man who can tell you a story whilst entangling you in a lasso, Pop Wagner (& friends)
the Joan Baez of the Twin Cities, Maureen McElderry
a couple who actually hung out with Bob Dylan and aren't just making it up to sound cool, Judy Larson & Bill Hinckley
classically-trained guitarist gone folkster, Phil Heywood
the pit bull of folk, Paul Metsa
who's-your-daddy-Papa John Kolstad
the mysterious bearded man who plays so well that it requires a different Hawaiian shirt each time, Dakota Dave Hull
and Peter Lang whose talent needs no corny bi-line in a press release.

So come on down to the Eagle's and give a little back to a man whose part in the struggle for justice and whose gifts as a story teller and musician have kept the oral and musical traditions of resistance alive and kickin'!

This event is sponsored by the Twin Cities General Membership Branch of the Industrial Workers of the World.
Utah Phillips can be contacted through No Guff Records. He has a podcast available through his website. CDs of his songs and stories can be ordered through CD Baby or directly through No Guff Records. (Either way you order, most of the money will go directly to Utah.) If you're not already familiar with Utah Phillips's music and stories, I especially recommend We Have Fed You All For A Thousand Years and his two collaborations with Ani DiFranco, The Past Didn't Go Anywhere and Fellow Workers.