Here's a pretty old post from the blog archives of Geekery Today; it was written about 15 years ago, in 2008, on the World Wide Web.
From Jason Smathers's report on Wendy McElroy's recent anti-voting lecture at the University of Wisconsin-Madison: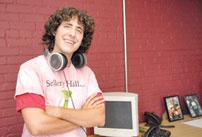 You put your trust in the state because it filters out complexities of life you either cannot manage on your own or see no need to. Why do people obey unjust laws? Because — for the majority, in most cases — it'd be a whole lot more problematic and chaotic without the system there. I may recognize that a war we're involved in is unjust, but I don't attempt to overthrow the government because the state simplifies my life in ways that more directly affect me.
Well. I, for one, know that if I were an Iraqi child, I would be happy to die so that Jason Smathers can live a simpler life.