Here's a pretty old post from the blog archives of Geekery Today; it was written about 15 years ago, in 2008, on the World Wide Web.
Those of you who know me personally may know that I spent last week on the road, visiting my folks back in Alabama. Along the way I gathered together a lot of my old stuff to take back with me; one of the things I found was my old bag of flyers, leaflets, and tools from Auburn Peace Project — the local group that we formed to coordinate demonstrations and vigils against the run-up to the Iraq war during late 2002 and early 2003. Here's one of the activist tools that we used–a clever little fold-over letter to the President, with the envelope made up to look like a $1,000 bill, protesting the costs that an tax-funded invasion and occupation of Iraq would force on all of us against our wills.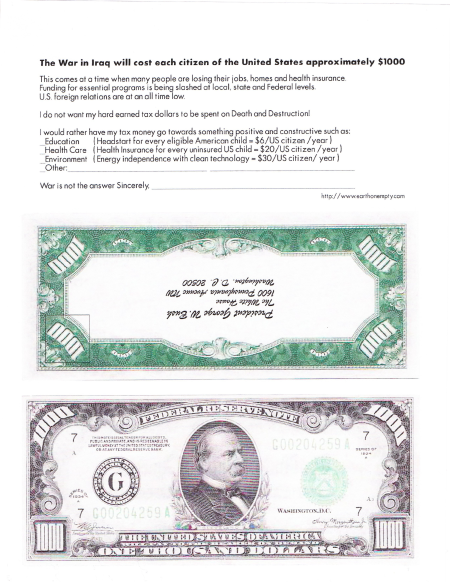 Anyway, I mention this mainly as a nostalgia piece from the carefree, optimistic days of the early '00s. Man, remember back when we thought the Iraq war was only going to cost $1,000 for every U.S. citizen?
Further reading: