Here's a pretty old post from the blog archives of Geekery Today; it was written about 15 years ago, in 2008, on the World Wide Web.
This is happening in three days. We're counting on the community to spread the word as far and wide as possible. If you're in the Las Vegas area or know people who are, please pass along the word to anyone you know who might be interested.
The United Coalition for Im/migrant Rights in Las Vegas is organizing a street demonstration THIS FRIDAY, 23 May 2008, at 3:00 PM, beginning with a march through the streets from Valley High School to the UNLV campus, followed by a rally at the UNLV amphitheater. UCIR has called this march as a continuation of the May 1 movement for immigrant rights and against government harassment of peaceful workers and students.
The demonstration this Friday is specifically intended to raise awareness of the predicament of undocumented immigrant students, to speak out against the as a demonstration to raise awareness of the predicament of undocumented immigrant students, to speak out against the criminalization of immigrant youth, and in support of the DREAM Act, which provides a process for undocumented immigrant children to gain permanent residency, avoid the threat of deportation, and eventually gain citizenship while pursuing a college education.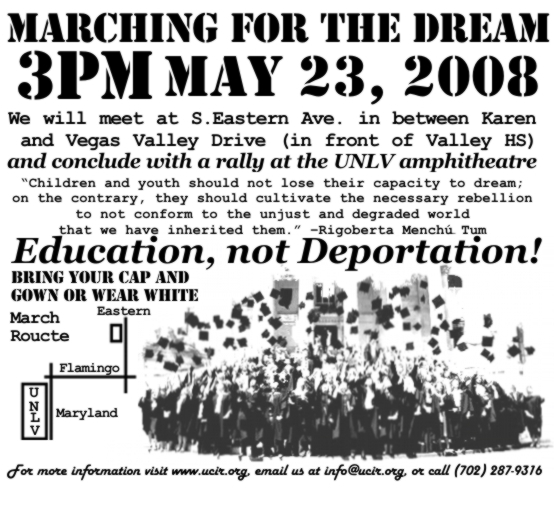 Marching for the Dream: 3 PM May 23, 2008

We will meet at S. Eastern Ave. in between Karen and Vegas Valley Drive (in front of Valley HS) and conclude with a rally at the UNLV amphitheatre.

Children and youth should not lose their capacity to dream; on the contrary, they should cultivate the necessary rebellion to not conform to the unjust and degraded world that we have inherited them. –Rigoberta Mench?@c3;ba; Tum

Education, not Deportation!

For more information visit www.ucir.org, email us at info@ucir.org, or call (702) 287-9316.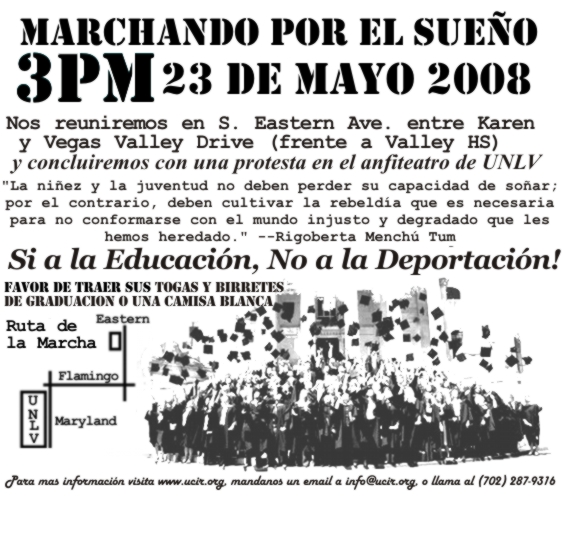 Marchando por el Sue?@c3;b1;o / 3 PM, 23 de mayo 2008

Nos reuniremos en S. Eastern Ave. entre Karen y Vegas Valley Drive (frente a Valley HS) y concluiremos con una protesta en al anfiteatro de UNLV.

La ni?@c3;b1;ez y la juventud no deben perder su capacidad de so?@c3;b1;ar; por el contrario, deben cultivar la rebeldia que es necesaria para no conformarse con el mundo injusto y degradado que les hemos heredado. –Rigoberta Mench?@c3;ba; Tum

Si a la Educaci?@c3;b3;n, No a la Deportaci?@c3;b3;n!

Para más informaci?@c3;b3;n visita www.ucir.org, mándanos un email a info@ucir.org, o llama al (702) 287-9316.
You can support the struggle against international apartheid and anti-immigrant segregation by joining the march, bringing a sign or placard with a strong anti-criminalization message (some of the signs already prepared include: Education, not deportation; Keep your borders off my education; End International Apartheid, Immigrant students are not criminals, and This is our home. We are not going anywhere, and Papeles para tod@s). Most importantly, bring yourself and as many friends as you can (non-coercively!) get your hands on. We are taking to the streets, and I hope to see you there.
See also: