Here's a pretty old post from the blog archives of Geekery Today; it was written about 15 years ago, in 2008, on the World Wide Web.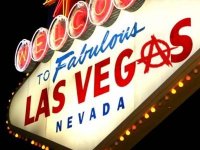 Here's the latest on Southern Nevada ALL and anarchist organizing in Las Vegas.
We're starting a Las Vegas A-Cafe. (By we, I mean both Southern Nevada ALL and some other local anarchists I've contacted. Look out, we're conspiring.) The Anarchist Cafe is intended as an informal gathering for anarchists (of all stripes, sects, and creeds) to meet and talk with each other–which is free-form enough to allow people just to meet up and hang out if they want to hang out, but y also where they can talk some shop, spread some news, and float some ideas for action. The idea comes from events in Califas (SoCal, NoCal). For the time being, we're being rather literal by holding the event in an actual coffee house, because they have good meeting space, comfy chairs, and don't expect us to do anything more for it than buy some of their drinks. Hopefully the first meeting will bring together some new faces and old. The first meeting is:
Wednesday, August 27th, 2008
6:30pm – 8:00pm
@ The Coffee Bean and Tea Leaf, Running Rebel Plaza
4550 S. Maryland Parkway, Las Vegas, NV 89119
Bring yourself. Bring a friend. And bring anything — ideas you've had, projects you're working on, literature, zines, flyers, art, whatever — that you'd like to share with some like-minded people. For myself, I'm going to try to encourage everyone to sign on for some networking projects, bring a lot of ALL literature to set out on a table, and chat people up about possible local actions and projects.
For more details, see the Vegas A-Cafe website.
In order to announce the upcoming A-Cafe, to raise awareness about the domestic and foreign and perpetrated by the State, and to reach out to incoming and returning students at UNLV, Southern Nevada ALL took its second flyering action today — the first day of classes for the upcoming semester at UNLV. We're calling this outreach action Radical Re-Orientation. Right now, we're limited mainly to posting flyers and distributing handbills. In the future, if we gain more of a foothold on campus, I hope that we can really trick the event out, through some strategic use of tabling, more extensive first-week events, and hopefully coordination with other groups on campus. But, in any case, for now, there is the A-Cafe, and there are the flyers and handbills. The numerical majority of the paper that we've been pushing has been a pair of new flyers on police brutality, a handbill on anarchy, and a flyer announcing the A-Cafe event. In addition, we also have some fresh copies of existing flyers on how we are forced to pay for war and torture through government taxation.
The handbills are designed to be printed out as a double-sided 4×4 sheet, with the logo on one side and the What Is Anarchy? text, with a link back to the A-Cafe website, on the back. We've dropped a few in public places, and spread the rest around under car windshield-wipers and on doorknobs; the idea is for the front to catch your eye with the logo, and the back to give some idea of what we're all about. I hope to re-use the design with a bunch of different texts on the back; for the first one, I tried a capsule summary of what anarchism is about. Thus:
What is Anarchy?

Anarchy means lawlesness. It does not mean riot or chaos. The government schools and the corporate media have taught you to believe that Anarchy means disorder because they need you to believe that order and peace can only exist where they are imposed by government laws and enforced by government police. The elite few who pull the strings in the government and in the corporate media need you to believe that social order requires social control. After all, they intend to do the controlling. They expect you to surrender your freedom to their authority. In exchange they promise you peace, protection, security, and order. But what they deliver is fear, war, police brutality, and humiliating "security" checkpoints. Their "order" means taking orders. Their "protection" is a prison.

In Anarchy there is another way. Instead of a coercive order imposed by government, we believe in consensual order. Instead of "protection" from brutal government cops, we look to individual and neighborhood self-defense. Instead of "relief" from indifferent government welfare bureaucracies, we look to fighting unions, worker solidarity and cooperative community-based mutual aid. Instead of "order" imposed by obedience to government laws, we look to voluntary contracts and agreements between free people negotiating as equals.

We oppose all government prohibitions, government taxes, government borders, government police, and government wars, because we are for peace, freedom, and social harmony. These can only exist between people who come to agreements as equals, not between people who are forced to obey out of fear. It is government law that produces violence, riot, and disorder. Only in Anarchy can there be true order, real peace, individual freedom and social harmony.

If you are interested in learning more about these ideas, or meeting other people in Las Vegas who are working to make them a reality, check out the Vegas Anarchist Cafe at: http://vegas.anarchistcafe.org
We put up about about 150 flyers and passed out about 200 handbills today. We'll be spreading more anarchist love in upcoming days. I'll let y'all know how it goes in terms of attention, new contacts, and the A-Cafe. As usual, if you find any of the pictures pretty or the text useful, they're all freely available for you to reuse and recycle as you see fit.
If you are in the Las Vegas area (or you know someone who is) and are interested in the A-Cafe or in Southern Nevada ALL, I'll be at the A-Cafe on Wednesday, and I hope that several other ALLies will be there too. If you can't make it to the face-to-face, by all means drop us a line. If you want to put up flyers, feel free to contact me — I can hand you off a stack of flyers to put up and give you some idea of the areas that have already been hit — or feel free to print them up yourself from the PDF and put them wherever seems best.
Onward.