Here's a pretty old post from the blog archives of Geekery Today; it was written about 15 years ago, in 2008, on the World Wide Web.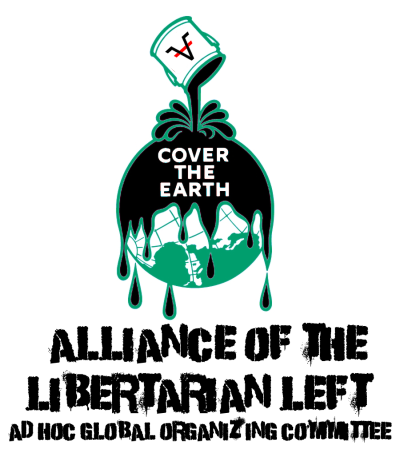 ALLies,
First things first. Do you know any individualist anarchists, agorists, mutualists, left-Rothbardians or others on the libertarian left in or nearby any of the following metropolitan areas, who might be interested in getting involved, or getting more involved, in local activism and organizing? (If that description matches you yourself, that's good enough, too.)
If so, please drop me a line with their contact information. I have some requests from prospective local organizers who are looking for people to start locals for the Alliance of the Libertarian Left. I would love to be able to put them in touch with anyone locally who might be interested.
Which brings me to my broader topic. In principle, one of the great things about a decentralized outfit like the Alliance of the Libertarian Left is that it's easy for supporters to organize new locals and begin building alternatives in their own community. Since there's no central bureaucracy you need to ask for permission and no paperwork to fill out, all you need to do is find people in your hometown, declare yourself a cell of the A.L.L., and start working on actions and projects in your own community. That's a pretty low barrier to entry. But Just organize in your own community! is a bit easier said than done. One of the downsides of a decentralized outfit like the Alliance of the Libertarian Left is that there's little in the way of a ready-made structure or resources for people to find each other, or to know how to move the organizing forward once a core group has managed to find each other. If we're going to do this decentralism thing, one of the things we'll have to do is to work out decentralized methods of making these resources available to new organizers who want or need them.
Recently I've gotten a number of e-mails from people who are looking for local ALL contacts, or who want to start an ALL but need help with some of the logistics (for example, with getting web space for their group). In order to help make it easier to start up new locals, I'm proposing that we establish an ALL Ad Hoc Global Organizing Committee. In fact, it's so ad hoc, that I've already started it: http://libertarianleft.org/.
The purpose of the Organizing Committee is to serve as a clearing-house for currently active ALLies to help put other ALLies in touch with each other and to provide some information, some advice and some resources that will help people get going on local organizing. Any and all ALLies who are interested in participating are invited to do so. Here's a couple ways that you can help right now.
Help us network to put local ALLies in touch with each other — I've set up an Organizing Committee listserv for two purposes. One purpose is to do some brainstorming and scheming about methods of outreach and resources for newbie organizers to make available through the Organizing Committee website or by other means. (About which, see below.) The other important function is to for us to network so that we can help prospective local organizers find other people in their own neck of the woods. If you happen to know a lot of libertarians or anarchists outside of your hometown (or know people who know a lot of libertarians and anarchists outside of your hometown), you can help out a lot just by signing up to the list as a sort of activist matchmaker — so that if someone gets an inquiry from an ALLy in Walla Walla, say, we can check in with each other to see if anyone knows good contacts in Walla Walla.

Brainstorming useful resources, information, and advice to make available through the page — for example, there's currently a rudimentary page for helping solitary local left-libertarians find ALLies in their area for the purposes of organizing an ALL local. The page currently consists of a landing-pad that encourages them to e-mail members of the organizing committee, along with Shawn Wilbur's ALL Frappr map as a means for people to find each other based on geographical location. What it could use are some links to useful resources and some concrete advice on other ways to get the word out. What would you suggest for things to add to this page, either in terms of services that existing ALLies can directly offer, or links we can point to, or advice we can give, on finding other like-minded people in your community?

More generally, what would you like to see on the Organizing Committee website as a whole? What kind of services can we offer that would be most useful to you, or to prospective local organizers? What kind of information and advice do you think would help out the most? Let's discuss in the comments section.
Finally, I'd like to mention that, as part of the Organizing Committee effort, I (Rad Geek) am making subdomains and webhosting space available to ALL locals that need them. If you are organizing, or hope to organize, a local ALL chapter, and you want web space for your group (to make contact information available, to provide some information about what A.L.L. is all about, to put up news and announcements, to provide an online landing-pad for people who see flyers or other literature that you might distribute around town, etc.), then I can hook you up. You will get use of a subdomain name of your choice (in the format yourhometown.libertarianleft.org), and, if you need it, I can provide you with free web hosting space on my own web servers. As long as traffic remains relatively low, the hosting will be completely free. If in the course of the Revolution traffic should spike to the point that I need to upgrade my servers or Internet connection to handle it, I would just ask a small cost-price-based fee to help handle the upgrade–good mutualist practice, and far less than anything you'd get from buying a commercial web hosting plan. (Solidarity economy and all that.)
Onward.