Here's a pretty old post from the blog archives of Geekery Today; it was written about 11 years ago, in 2012, on the World Wide Web.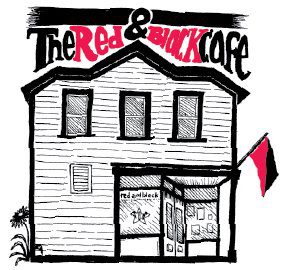 I just read this note from the Red & Black Cafe's page on Facebook. If you're not familiar, the Red & Black is a worker-owned co-operative restaurant in Portland, Oregon. The food's all vegan; the ingredients are mostly organic, and either locally sourced or Fair Trade. The worker-owners are organized as an IWW shop, and directly manage their own workplace. It's also an important hub for the anarchist community in Portland, providing a venue for regular talks, films, and other community events. I just sent $50; which is more than I can really afford right now, but the Red & Black, and places like it, matter. A lot. Any mutual aid you can send their way — or anyone you can tell about this situation — will really help. (The website doesn't seem to have a post about the current situation yet; but you should be able to use the PayPal donation buttons in this post. I just attached a note to the donation asking them to put it to use wherever it would be most helpful.)
From the Red & Black collective, via Facebook:
The Red & Black is in trouble. Our finances have reached a crisis point. This situation has been brewing for many months as our cash flow slowly dried up. To be blunt: we are unable to make our mortgage payment on time and we've bounced checks to some of our vendors and staff. A couple of days ago at our collective meeting we contemplated shutting our doors for good.

So what happened? Like many other local restaurants after 4+ years of recession (depression?): we need more business. In this economy many people have less money to eat out. Our situation is compounded by the fact that we have never had anything near a comfortable amount of working capital. We attempted to raise sufficient capital during the fundraising drive we held when we decided to buy our building. While we did raise enough money to make our down payment, we were far from our goal. This left the collective financially vulnerable to the point that a slow month could bankrupt us.

While there are several things we do that don't make a lot of business sense, financially, they are things we refuse to compromise on. We are welcoming to unhoused folks who often can't afford to spend money at the cafe. We make most of our food from scratch which is labor intensive and because our ingredients are (mostly) organic, they are more expensive.

We are also much more than just a restaurant. We are a community space; specifically we are a radical, queer-positive safer space; an important hub for many overlapping grassroots political projects, a cop-free zone, an amazing vegan restaurant, a music venue, a hangout and meeting space for Industrial Workers of the World union members, a low income collective household upstairs— the list goes on.

In order to meet this challenge head on we're making changes that we believe will not only avert catastrophe, but put us on a path of financial sustainability. The most dramatic and immediate change is that we've decided to work without pay until we can turn this situation around. This decision is both difficult and easy to make. Difficult because we, as individuals, can't afford it for long and because we are a closed union shop with the goal of paying ourselves a living wage. But the decision is also easy because the alternative is something none of us want: losing the Red and Black.

So we are fundraising $20,000 in donations, gift certificates and merchandise sales. This amount would not only cover our current obligations, it would mean having an adequate amount of working capital for the first time. We would be able to afford to go back to a paid wage, to purchase adequate equipment, fix the window, and keep the building. This is a crucial time for the Red and Black and we need your help!

Please visit our website www.redandblackcafe.com to donate and Twitter @redandblackcafe for updates on our hours and menu.