Here's an old post from the blog archives of Geekery Today; it was written about 7 years ago, in 2016, on the World Wide Web.
Shared Article from CNN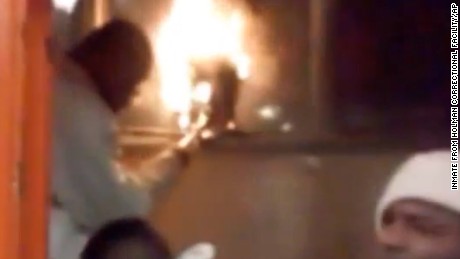 Alabama prison riot: Warden, officer stabbed
Inmates at an Alabama prison stabbed their warden and a correctional officer, started a fire in a hallway and posted pictures of the mayhem on social …
cnn.com
There was an uprising this weekend at Holman Prison in Atmore, Alabama. Prisoners stabbed a hack, and then they stabbed the warden, and took over a dormitory building. According to the inmates, they were rioting because the guard used excessive force when trying to break up a fight between inmates. The state and every surrounding law-enforcement agency deployed massive force to seize back control over this one building and the prison is now on lockdown.
Holman Prison is a Jim Crow-era prison that was opened in 1969 and designed to hold 637 prisoners. Like all Alabama prisons, Holman is desperately overcrowded, with 991 prisoners locked together, including 157 inmates awaiting execution on death row. The prison population exploded in the 1970s, due largely to changes in sentencing for drug crimes as part of the War on Drugs; the inmate population is about 60% African-American, 40% white. The prison is located near Mobile on the South Alabama coastal plains. Temperatures routinely rise to over 100 degrees every summer. The prison has no air conditioning. Holman has a reputation for being one of the most violent prisons in Alabama, partly due to the constant overcrowding and the brutal conditions. The prison's nicknames among the inmates include "the Slaughterhouse," "the Bottom," and "the Pit."
Since they took back control over the dormitory building, Alabama DOC authorities have responded by making an intensive search for contraband cell phones, because apparently the real crime here is that you were able to see photo and videos of this happening.
Every prison is a factory of brutality and a slaughterhouse of systemic violence. Every human being caged is an offense against humanity. Free every prisoner, abolish every prison. Break the cages, burn down the prisons, and bury the chains.