Here's a recent post of a book excerpt on the Ex Bird Site — brought to my attention thanks to Jesse Walker.
@petrifiedegg, Jul. 8

When Yeltsin saw a Texas supermarket, his worldview was revolutionised and he wept;[1] when Ceausescu saw Macy's he just thought it was a fake.[2]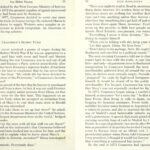 The attached page images from the post are an excerpt from Red Horizons, an expose written by Ion Mihai Pacepa (formerly acting head of the foreign intelligence service in the Romanian Securitate), after he defected to the United States:
Ceausescu had never received a penny of wages during his entire adult life. Before World War II he was an apprentice to a shoemaker, who paid him with room and board and Marxist indoctrination. During the war Ceausescu was in and out of jail as a Communist and became a Party activist immediately after its end. Since he has been Romania's supreme leader,[3] it has been a matter of pride for him to emphasize that he has never been paid for what he has done. My whole life has been devoted to the World Revolution of the Proletariat, is Ceausescu's favorite definition of himself.

Ceausescu is also proud of the fact that he has never purchased anything for himself from a store. In fact, it was not until October 1970 that Ceausescu, mainly under pressure from Elena,[4] set foot in a department store for the first time. This happened on an official visit to New York, when he accepted an invitation from the management of Macy's to visit their main store at Herald Square. Ceausescu was astonished.

How long did it take them to set up that show? he asked, when he got back to the Romanian Mission to the United Nations.

Macy's is the largest department store in the world, hedged a puzzled ambassador.

I mean, to fill up the store with all that stuff we saw there?

It finally dawned on the ambassador that Ceausescu believed the whole store had been stocked just as a show for him, and the ambassador started to explain what he knew about Macy's.

Do you subscribe to Scinteia, monsieur? Elena interrupted.

Of course, comrade. Everybody does.[5]

[pg]78[/pg] Then you ought to read it. Read it, monsieur, and learn something about America. It's written there in black and white that American stores are nothing but window dressing, that Americans can't buy anything unless they borrow money. And that after they buy something they get laid off and everything is taken away from them again. Show, monsieur. Everything is show, to cover up the poverty, to hide how people are sleeping in the streets. Read Scinteia, you peasant, you mascalzone![6]

Everything I know is from Scinteia, the ambssador said, trying to expiate himself.

When you're talking with me, keep your mouth shut!

Let him speak, Elena. He lives here.

Don't listen to his garbage, Nick. He ought to be sent back to Bucharest and enrolled in a political course.

The next morning Ceausescu told me to check Macy's out and report back to him with the truth. A year later he opened the first–and only–department store in Bucharest. On the day of its inauguration by Ceausescu himself, the store was chock full of merchandise gathered from all around the country. A few days later, its shelves were virtually empty. Periodically the store was prepared for visits by high-level foreigners or by Ceausescu himself. It would be closed off to the public and stuffed with merchandise. For his part, Ceausescu has never really believed that Macy's was not especially stocked for his visits.

— Lt. Gen. Ion Mihai Pacepa (1987), Red Horizons: The True Story of Nicolae and Elena Ceausescus' Crimes, Lifestyle, and Corruption, pp. 77-78.