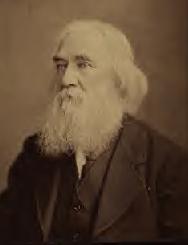 To-day — 19 January 2008 — is the 200th birthday of the militant abolitionist, philosopher, and individualist anarchist Lysander Spooner (b. 19 January 1808, Althol, Massachusetts; d. May 14, 1887, Boston, Massachusetts). In honor of his life and work, the Ministry of Culture of this secessionist republic of one has declared that 19 January shall be celebrated as Lysander Spooner Day.
This is from the end of Spooner's famous pamphlet No Treason: The Constitution of No Authority:
Inasmuch as the Constitution was never signed, nor agreed to, by anybody, as a contract, and therefore never bound anybody, and is now binding upon nobody; and is, moreover, such an one as no people can ever hereafter be expected to consent to, except as they may be forced to do so at the point of the bayonet, it is perhaps of no importance what its true legal meaning, as a contract, is. Nevertheless, the writer thinks it proper to say that, in his opinion, the Constitution is no such instrument as it has generally been assumed to be; but that by false interpretations, and naked usurpations, the government has been made in practice a very widely, and almost wholly, different thing from what the Constitution itself purports to authorize. He has heretofore written much, and could write much more, to prove that such is the truth. But whether the Constitution really be one thing, or another, this much is certain – that it has either authorized such a government as we have had, or has been powerless to prevent it. In either case, it is unfit to exist.

— Lysander Spooner (1870): No Treason No. 6: The Constitution of No Authority
And this is from an earlier number of No Treason:
But to say that the consent of either the strongest party, or the most numerous party, in a nation, is sufficient justification for the establishment or maintenance of a government that shall control the whole nation, does not obviate the difficulty. The question still remains, how comes such a thing as a nation to exist? How do millions of men, scattered over an extensive territory — each gifted by nature with individual freedom; required by the law of nature to call no man, or body of men, his masters; authorized by that law to seek his own happiness in his own way, to do what he will with himself and his property, so long as he does not trespass upon the equal liberty of others; authorized also, by that law, to defend his own rights, and redress his own wrongs; and to go to the assistance and defence of any of his fellow men who may be suffering any kind of injustice — how do millions of such men come to be a nation, in the first place? How is it that each of them comes to be stripped of his natural, God-given rights, and to be incorporated, compressed, compacted, and consolidated into a mass with other men, whom he never saw; with whom he has no contract; and towards many of whom he has no sentiments but fear, hatred, or contempt? How does he become subjected to the control of men like himself, who, by nature, had no authority over him; but who command him to do this, and forbid him to do that, as if they were his sovereigns, and he their subject; and as if their wills and their interests were the only standards of his duties and his rights; and who compel him to submission under peril of confiscation, imprisonment, and death?

Clearly all this is the work of force, or fraud, or both.

By what right, then, did we become a nation? By what right do we continue to be a nation? And by what right do either the strongest, or the most numerous, party, now existing within the territorial limits, called The United States, claim that there really is such a nation as the United States? Certainly they are bound to show the rightful existence of a nation, before they can claim, on that ground, that they themselves have a right to control it; to seize, for their purposes, so much of every man's property within it, as they may choose; and, at their discretion, to compel any man to risk his own life, or take the lives of other men, for the maintenance of their power.

To speak of either their numbers, or their strength, is not to the purpose. The question is by what right does the nation exist? And by what right are so many atrocities committed by its authority? or for its preservation?

The answer to this question must certainly be, that at least such a nation exists by no right whatever.

We are, therefore, driven to the acknowledgment that nations and governments, if they can rightfully exist at all, can exist only by consent.
And this is from A Letter to Grover Cleveland, on His False Inaugural Address, The Usurpations and Crimes of Lawmakers and Judges, and the Consequent Poverty, Ignorance, and Servitude of the People, perhaps the finest letter ever written to the President of the United States:
Let me then remind you that justice is an immutable, natural principle; and not anything that can be made, unmade, or altered by any human power.

It is also a subject of science, and is to be learned, like mathematics, or any other science. It does not derive its authority from the commands, will, pleasure, or discretion of any possible combination of men, whether calling themselves a government, or by any other name.

It is also, at all times, and in all places, the supreme law. And being everywhere and always the supreme law, it is necessarily everywhere and always the only law.

Lawmakers, as they call themselves, can add nothing to it, nor take anything from it. Therefore all their laws, as they call them, — that is, all the laws of their own making, — have no color of authority or obligation. It is a falsehood to call them laws; for there is nothing in them that either creates men's duties or rights, or enlightens them as to their duties or rights. There is consequently nothing binding or obligatory about them. And nobody is bound to take the least notice of them, unless it be to trample them under foot, as usurpations. If they command men to do justice, they add nothing to men's obligation to do it, or to any man's right to enforce it. They are therefore mere idle wind, such as would be commands to consider the day as day, and the night as night. If they command or license any man to do injustice, they are criminal on their face. If they command any man to do anything which justice does not require him to do, they are simple, naked usurpations and tyrannies. If they forbid any man to do anything, which justice could permit him to do, they are criminal invasions of his natural and rightful liberty. In whatever light, therefore, they are viewed, they are utterly destitute of everything like authority or obligation. They are all necessarily either the impudent, fraudulent, and criminal usurpations of tyrants, robbers, and murderers, or the senseless work of ignorant or thoughtless men, who do not know, or certainly do not realize, what they are doing.

— Lysander Spooner (1886): A Letter to Grover Cleveland, on His False Inaugural Address, The Usurpations and Crimes of Lawmakers and Judges, and the Consequent Poverty, Ignorance, and Servitude of the People
Further reading: