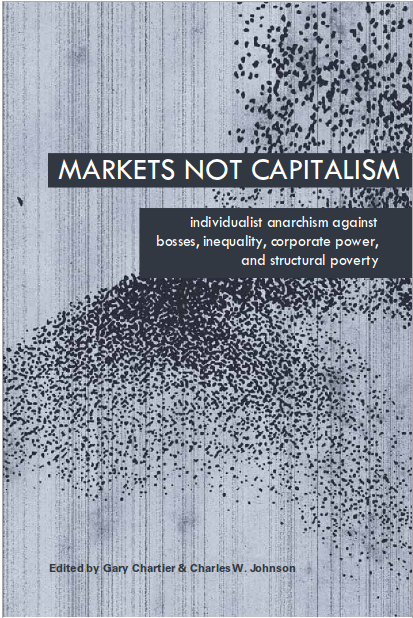 I am happy to announce that I have been invited to speak at three sessions at the upcoming Libertopia convention, October 11-14, in San Diego, California. In particular, I'm going to be doing:
Part of a panel on so-called Intellectual Property, together with Stephan Kinsella (Saturday October 13, 2012, 2pm-3pm), on the Main Stage.

A breakout session on Ask an Anti-Capitalist! A Freewheeling Q&A on Markets Not Capitalism, Left-Libertarianism, and Mutualist Ends Through Free-Market Means (Sunday October 14, 2012, 9:45am-10:30am).

Part of a panel discussion on Markets Not Capitalism, together with my co-editor Gary Chartier, and contributors Roderick Long and Sheldon Richman. (Sunday October 14, 2012, 3pm-4pm), on the Main Stage.

Tabling in the exhibition area for Markets Not Capitalism, the ALL Distro, and Center for a Stateless Society. We'll have copies of the book, booklets, pamphlets, buttons, and more; and we'll be there to talk to convention-goers about free-market anticapitalism and left-libertarian ideas. I'm going to enjoy the talks but in all honesty the person-to-person contact and the tabling is the kind of groundwork that I see as by far the most important stuff, and which I'm most looking forward to doing.
I should mention that the Ask an Anti-Capitalist! session is being held in the John Galt Room, which I'm choosing to take as one of the more hilarious culture-clash moments I've had since I started doing this gig. The bad news is that this is scheduled opposite breakout sessions by Gary Chartier on war, and Sharon Presley on libertarian feminism (?!?). I guess the good news is that by packing us in like this, they've ensured that no matter what breakout session you go to during that block, you are going to get some lefty libertarian stuff to hear. Anyway, there's going to be a veritable mob of left-libertarians, free-market anticapitalists, C4SSers and other lefty-friendly commentators there throughout the event, including Gary Chartier, Sheldon Richman, Roderick Long, Stephanie Murphy, not to mention presentations by Angela Keaton, Sharon Presley and Anthony Gregory. You can check out the whole schedule here.
We're doing our best to do all this on as thin a shoestring budget as possible. I've arranged for couch-surfing and carpooling to help keep the travel and lodging expenses as minimal as possible, but there's still a couple of hefty charges that we're paying out of pocket to get Markets Not Capitalism and a rambunctious left-libertarian presence out to California. So if you want to help out, you can toss a few coins into the hat with the ChipIn widget below. Donations go to the Molinari Institute, so any proceeds above reimburseable expenses will go to support the production and distribution of market anarchist literature, and towards supporting future speaking gigs for Markets Not Capitalism. Anyway, here's the shoestring, for reference. (This may be revised as other arrangements get nailed down.)
Markets Not Capitalism 2012 Libertopia budget
Cost
Description
$440
Travel. Rental car to ferry me, L., and a friend across the continent to San Diego
~$0~
Lodging en route (2 nights there, 2 back; crash space secured!)
$400
Tabling space expenses. To reimburse Roderick Long for the expense of securing a table in exhibition space for C4SS, ALL, and Markets Not Capitalism
(he will otherwise have to pay out-of-pocket)
$840
Total costs (estimate as of 23 Sep 2012)
Chip In to get Markets Not Capitalism to Libertopia!
Thanks! And I hope I'll see y'ALL there!