From this morning's OA News:
Dozens of concerned citizens from all areas of Opelika filled the pews at St. James Missionary Baptist Church Monday evening to discuss an officer-involved shooting that occurred on Oct. 31, claiming the life of 56-year-old Bennie Lee Tignor, and to demand answers to questions posed by community members skeptical of information supplied by law enforcement.

Leading the conversation was St. James Missionary Baptist Church pastor and long-time Opelika politician District 83 Rep. George Bandy, who consistently called into question the transparency of the Opelika Police Department and the City of Opelika.

"There's some questions that I'm raising here tonight, and a statement that I'm trying to make," he said. "When people ask for information, I go ahead and call the mayor or chief of police and they tell me that it's been turned over to the SBI, the State Bureau of Investigations and so, therefore, they don't have any information that they can give out."

Bandy said he was unsure if any city leaders have seen footage of the dash cam recording of the shooting, but he feels, as an elected official, that it would have been beneficial to have had access to it to communicate its contents to his constituents.

"It would've been a great thing if we could've looked at the dash cam and we could've come out here tonight and told the people that what (the OPD) is saying is the truth. But we can't do that," he said, adding he requested to see the video but was turned down by the SBI due to the status of the open investigation.

Information he's received from the two alleged eyewitnesses, Tignor's girlfriend Betty Denson and her daughter, Shikeria Ligon, he said, doesn't match up with that provided by the OPD.

"The information that we've gotten from the two eyewitnesses is that there was no gun seen. So the dash cam needs to show a gun," he said. "(Officer Jared Greer's) word, I don't think, should be good enough."

–Meagan Hurley, Community Wants Answers
Opelika-Auburn News, November 10, 2015.
Shared Article from OANow.com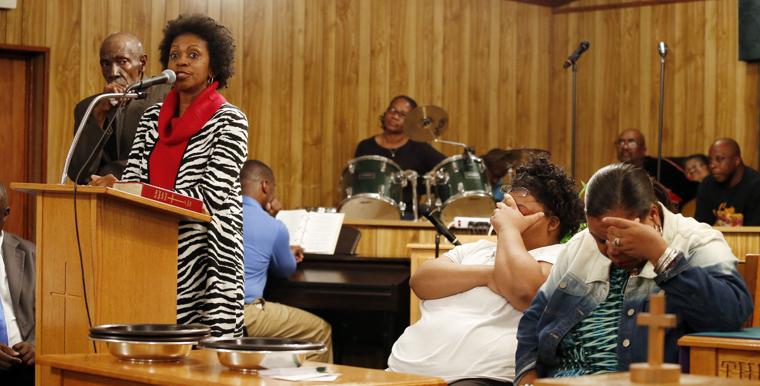 Dozens meet to discuss happenings in Opelika officer-involved sh…
Alleged witnesses recount incident
oanow.com