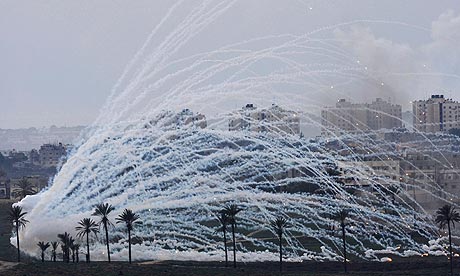 The Israeli government's military began heavy artillery shelling of civilian targets in Gaza this weekend. The idea was that by besieging Gaza, and then firing heavy artillery down into one of the world's most densely populated urban areas — along with a continued barrage of aerial bombardment, which has been blowing the hell out of universities, mosques, residential neighborhoods, and other civilian targets for the past several days — the Israeli government's military might be able to somewhat reduce the number of its professional soldiers killed in combat during a ground invasion.
Israel unleashed an artillery bombardment on Gaza today for the first time in its week-long offensive, prompting increased speculation that a ground invasion is about to begin.

Palestinian medical officials also said that an Israeli airstrike on a Gaza mosque had killed 10 people and wounded dozens more. Al Jazeera quoted witnesses as saying there were at least 200 people at prayer inside the Ibrahim al-Maqadna mosque in northern Gaza when the missile struck.

The Israeli TV station Channel 10 said the entire length of the Gaza Strip was under attack. Palestinian witnesses told Reuters the shelling had caused a large explosion in Gaza City and there were a series of blasts close to the frontier with Israel. There were no immediate reports of casualties.

Israeli TV commentators said shelling could be used to clear Hamas-laid minefields ahead of a possible ground invasion. Israeli troops are massed on the border waiting for orders to go in.

More than 400 Palestinians and at least four Israelis have been killed since Israel launched its offensive last Saturday. The UN estimated yesterday that a quarter of the Palestinians killed were civilians.

— Matthew Weaver, The Guardian (2009-01-03): Israel fires artillery shells into Gaza
Then the Israeli government's military began its ground assault — that is, sending in infantry and armored divisions to invade and occupy Gaza, with the usual imposition of martial law and military curfews and more-or-less shoot-on-sight procedures, the blockading of roads and bridges, the house to house operations of storming, searching, and commandeering civilian homes en masse, and all the rest involved in exerting military command-and-control over a large, besieged city.
Israel has said that its offensive in Gaza could take many long days as its troops moved deeper into the Palestinian territory in the second day of its ground attack.

Troops backed by air and naval power surrounded Gaza City and in effect sliced the territory in two.

An Israeli air strike hit two ambulances in Gaza on Sunday, killing four paramedics as they tried to reach those injured in the offensive.

Israeli government officials say they are not targeting civilians, only trying to stop rockets by the Palestinian Hamas movement governing Gaza, which are still being fired into southern Israel.

Civilian injuries and casualties in Gaza continue to mount and the death toll now stands at 521, with at least 64 people killed since the ground offensive began, according to Palestinian medical authorities. Some 2,450 have been injured.

Among the latest victims were a mother and her four young children, killed in an Israeli air strike on their home in Gaza.

Four Israeli civilians have been killed and two injured by Palestinian rocket attacks.

—Al-Jazeera (2009-01-05): Israel [sic] intensifies assault on Gaza
According to Shimon Peres, arbitrary President over the territory of Israel, the idea is to teach a lesson to Hamas.
We don't intend neither to occupy Gaza nor to crush Hamas, but to crush terror. And Hamas needs a real and serious lesson. They are now getting it.

—Shimon Peres, quoted in Al-Jazeera (2009-01-05): Israel [sic] intensifies assault on Gaza
Somewhere above 100 civilians have been murdered in the process of delivering this lesson to unrelated third parties. Ehud Barak, arbitrary Minister of Defense over the territory of Israel, tells us (from his perch in a comfortable government meeting room) that this is because War is not a picnic.
The operation will be expanded and intensified as much as necessary. War is not a picnic.

—Ehud Barak, quoted in Al-Jazeera (2009-01-05): Israel [sic] intensifies assault on Gaza
Indeed; but for whom?
So, anyway, to review, in Israel, four civilians have been murdered, two have been injured, and some other residents of towns near the Gaza strip have suffered some fright and some property damage from poorly-aimed rocket attacks launched by Hamas, the quasi-governmental terrorist faction that claims a right to rule over the 1.5 million people living in Gaza. In the process of retaliating against these attacks, the Israeli government's military has locked down those 1.5 million people — the primary victims of Hamas — under a state of siege and bombarded their homes, their schools, their roads, their houses of worship, and the ambulances that tried to come to their rescue. They have killed more than 100 times as many Palestinians as Hamas has killed Israelis, and injured more than 1,000 times as many. More than 100 of those killed in the massive indiscriminate bombardment (that is, at least 25 times the number killed in Israel) are known to have been civilians, who had nothing in particular to do with the poorly-aimed rocket attacks that the Israeli government's military claims to be trying to stop. Many of those killed have been children. The Israeli government's military has also deliberately stormed houses, bombed bridges, destroyed school buildings, cut electrical lines, and blockaded land crossings and sea lanes so that not even emergency relief NGOs can reach the people being maimed and killed by the bombardment. They show no signs of letting up: this death and destruction is only the beginning.
The official reaction from most of the rest of the world — which is the dignified term that the press uses to describe the ranting power-trips of a tiny, parasitic minority sitting in comfortable government offices far away from the millions of people upon whose lives and livelihoods they constantly render their sanctimonious opinions and summary judgments — has been to call for moderation. We will be told that both sides in this conflict have made moral and strategic blunders, that the best thing to do is to take a soft touch and to try to convince the belligerent states and quasi-states involved to tone things down and come to the bargaining table in some sort of diplomatic negotiation process. The problem is that there are not two sides in this war; like any other war, there are three sides — or, more properly, millions of tiny, individual sides — because in any war there are not only two states fighting each other, but also everybody else, the millions of people caught in between. Besides the belligerent states and quasi-states facing off against each other, in any war there are also the millions of people held hostage by one or both of the belligerent powers and coldly shoved into the crossfire by the usurpers who style themselves their leaders, and by the rival usurpers who are the enemies of their self-styled leaders; millions of people who have nothing at all to do with any casus belli or with any of the political maneuvers that led up to the onslaught; millions of people who were just trying to live their lives, and, for doing nothing worse than existing in the wrong place at the wrong time, will be hurt or maimed or bereaved or killed themselves — all in the name of the ranting power-trips of a tiny, parasitic minority who sit in comfortable government offices or heavily-fortified bunkers far away from the millions of people upon whose lives and livelihoods they constantly render their sanctimonious opinions and summary judgments. Of course news coverage never discusses this other side — that is, our side — those of us who do not sit in the halls of power and do not have our fingers on the triggers. Government diplomats care nothing about the interests our side and nobody ever consults us or considers whether we have legitimate interests worth respecting. Instead this is presented as a fight between Israel and Gaza — all of them, apparently, all at once — because it's necessary to talk about it that way in order to obscure the question of who is really dying, and how many, and where, and for what. I should like to say something more about this, but what more can I really say? I say it again, and again, and again, and it doesn't make a bit of difference but it remains no less true. There is a point at which no more commentary is possible; there is only copy-and-paste. Thus:
The murder of civilians by Palestinian terrorists is criminal, and those who committed the murders can be stopped from committing further crimes through the use of violence, if necessary. But the right to use force against someone does not mean the right to use any amount of force necessary against anyone at all in the process of stopping her. It's true that if you really are willing to do everything in retaliation for the kidnapping of a soldier, or attacks on your forces, or attacks on civilians, then this is included. Any atrocity at all is included in doing everything, and that is precisely why the willingness to do everything in retaliation for an attack, no matter what the cost to innocent third parties, is a moral crime of the first order. Destroying the lives and livelihoods of scores of innocent people in the process of trying to stop the murder of one or two other innocents is criminal.
And doing so to hundreds of civilians in the name of reducing military casualties in an invasion, or in the name of teaching a lesson to unrelated third parties — as if these hundreds of civilians were just so many Post-It notes, on which the Harrow of the State can write its little messages for the edification of rival state powers — is nothing less than an atrocity.
See also: