Here's a snippet from a recent New York Times profile on Henry Louis Gates, the renowned Harvard professor of African-American studies, and Sergeant James Crowley, the stupid, belligerent, and violent Cambridge cop who stupidly arrested Gates on his own front porch, allegedly for committing disorderly conduct in the foyer and front porch of his own home.
From 2 Cambridge Worlds Collide in Unlikely Meeting, in the New York Times, 26 July 2009: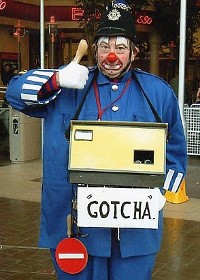 Friends say he has a large circle of friends in Natick and in Cambridge, where he grew up. Sergeant Crowley plays on a men's softball team and coaches his daughters' softball and basketball teams.

I have always thought of him as the most noncop person that I know, said Andy Meyer, a friend who plays softball with him on a team named the Black Mariahs. Mr. Meyer's wife, Betsy Rigby, said: When he has the uniform on, Jim has an expectation of deference. But when he's not in uniform, he's just a regular guy.
Yes. Exactly. And therein lies the problem.
Sergeant James Crowley believes that putting on a uniform and a badge puts him above just-folks like you and me and Henry Louis Gates, and so that it entitles him to special treatment — to deference, that is, willing subordination — that he would never think of demanding from his friends, his neighbors, or any other of his equals when he's living life out of uniform, like any other just-a-regular-guy.
And that's why, when he is in uniform, he's willing to bully, browbeat, and physically coerce you into handcuffs and jail, just to violently punish you if you should dare to tell him off in your own foyer — because he stupidly believes that his work clothes entitle him to command, and to expect obedience from, people he doesn't even know. That's stupid. But typical: stupidity, violence and petty tyranny are in fact his line of work as he has been led to understand it. And when he showed up at Ware St., he was indeed just doing his job.
(Via Jacob Sullum @ reason 2009-07-29.)
See also: