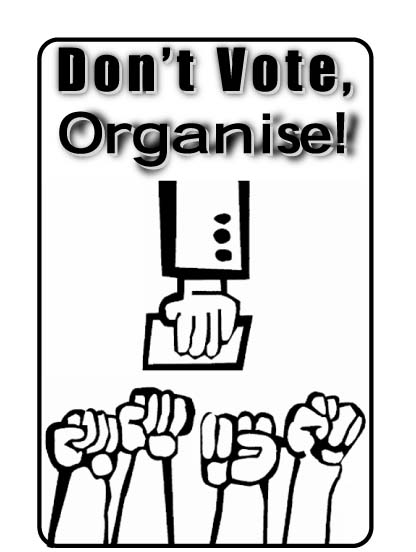 So lately I've been reading through a cache of syndicalist and autonomist booklets that I picked up a couple years ago from a NEFACker friend of mine who was soon to move out of Vegas. Partly for my own edutainment, but also because I am doing some prep work for possibly introducing a sort of Little Libertarian Labor Library to the ALL Distro.[1] Anyway, here's a really interest passage I ran across in a booklet edition of Shopfloor Struggles of American Workers — a talk by the Detroit auto-worker and autonomist Marxist Martin Glaberman — on the difference between asking workers to vote on an issue and asking them to strike over it, taking as an example the internal conflicts over the union bosses' no-strike pledge during World War II.
One of the things I want to start with, because it does provide a framework, and is not simply an event from the past, is something I did some work on a number of years ago about auto workers in the United States during World War II, the kinds of struggles that went on on the shop floor, within the union, between the workers and the government, a complex reality. What it revolved around was the struggle against the no-strike pledge in the UAW When the United States entered World War II, virtually all of America's labor leaders graciously granted in the name of their members a pledge not to strike at all during the war.

In the first months of the war, the first year, there was an actual drop off in strikes. The end of 1941 through 1942 was a period that put a finish to the late thirties, the massive organizational drives, the sit-down strikes, the violence, all the things that created the big industrial unions. The job hadn't been entirely done. Ford wasn't organized until early 1941. Little Steel wasn't organized, unionized, until the war was well under way, and so on.

Gradually, however, as the war went on, the number of strikes, (by definition all of them were wildcats, all of them were illegal under union contracts and under union constitutions) began to escalate until by the end of the war, the number of workers on strike exceeded anything in past American labor history. What was distinct about the UAW wasn't just that the wildcat strikes were larger in number and more militant, but the fact that something took place which made it possible to make a certain kind of record. It was the only union in which, because there were still two competing caucuses, leaving rank and file workers a certain amount of democratic leeway to press for their point of view, an actual formal debate and vote took place on the question of the no-strike pledge.

A small, so-called rank and file, caucus was organized late in 1943 and early 1944, to begin a campaign around a number of issues, but the central issue was the repeal of the no-strike pledge. … So[2] they proceeded to have a referendum. This referendum was in some respects the classic sociological survey. Everyone got a postcard ballot. Errors, cheating, etc. were really kept to a minimum. Everyone on the commission thought that it was as fair as you get in an organization of a million or more members. It took several months to do. When the vote was finally in, the membership of the UAW had voted about two to one to reaffirm the no-strike pledge.

The conclusion any decent sociologist would draw is that autoworkers on the whole thought that patriotism was a little bit more important than class interests, that they supported the war rather than class struggle and strikes, etc. There was a little problem, however, and this is why this is such a fascinating historical experience. The problem was that at the very same time that the vote was going on, in which workers voted two to one to reaffirm the no-strike pledge, a majority of autoworkers struck ….

To visualize it is fairly simple: you're not voting on the shop floor; you get this postcard, you're sitting at the kitchen table, you're listening to the radio news with the casualty reports from Europe and the Pacific and you think, yes, we really should have a no-strike pledge, we've got to support our boys. Then you go to work the next day and your machine breaks down and the foreman says, Don't stand around, grab a broom and sweep up, and you tell him to go to hell because it's not your job and the foreman says he's going to give you time off and the next thing you know, the department walks out. … The reality is that in a war which was probably the most popular war that America took part in, workers in fact, if not in their minds or in theory, said that given the choice between supporting the war or supporting our interests and class struggle, we take class struggle.

–Martin Glaberman, Shopfloor Struggles of American Workers (1993?)
Glaberman puts this out as a distinction between what workers say in their minds or in theory and what they say or do in fact. I'm not sure that's right — doesn't the story about the foreman involve the workers' mind and beliefs just as much as the story about the kitchen table? — but I think the most important thing here is Glaberman's attention to the context at the point of decision, and how that shapes what kind of decision a worker thinks of herself as making. Not just the outcome of the choice, but really the topic, whether the worker is asked to make some kind of political choice about what she ought, in some general and detached sense, she ought to value (isn't Patriotism important?), or she finds herself making an engaged, personal choice about what's happening — what's being done — to her and her fellow workers right now, on the margin. There is a lesson here for counter-economists.
Freedom is not something you vote on. It's something you struggle for. And what's far more important than trying to figure out how to get people to endorse the right ideology, or, worse, the least-bad set of policies and candidates to each other across the kitchen table, is figuring out how you and your neighbors can best cooperate with each other, practice solidarity and withdraw from maintaining and collaborating with the state. People who would never respond to a smaller-government candidate or a libertarian ideological pitch often will act very differently when you open up opportunities to support grassroots alternatives and withdraw from the day-to-day inhumanities of war taxes, regulations, police, prisons, borders, and the state-supported and state-supporting corporate capitalist economy. Meanwhile, those who talk all day about changing votes, and building parties to more effectively capture a few more votes here and there, and have nothing else to offer, are wasting time, resources, and organizing energy on efforts that are not merely futile, but in fact actively lethal to any hope of motivating and coordinating effective practical action.
See also:
[1]The basic idea: L4 would encompass some of the material we already have (Chaplin's General Strike, Carson's Ethics of Labor Struggle) and a lot of new and classic material, with new titles published at regular intervals, all with the basic underlying goal of (1) providing some decent labor-oriented materials for ALL locals, and (2) providing a decent source (mostly, currently, lacking) for IWW local organizing committees and other radical labor efforts to find some decently produced, low-cost booklet-style materials for lit drops and outreach tables, beyond just the IW, Anarcho-Syndicalist Review, and the relatively expensive books you can purchase through GHQ.↩
[2][After an inconclusive floor debate in convention. –RG]↩