A few days ago, Roderick mentioned one of the sillier complaints that's usually directed against Tom Tomorrow and his cartoon This Modern World: that he allegedly only satirizes the Right and never the Left. (By Left, the person making this criticism usually means corporate liberalism, or, really, just Democrats.) There's plenty of blind spots or confusions that you could criticize Tom Tomorow for, but this one I don't get. I don't know exactly why a political cartoonist with very decided views is expected to adhere to the Fairness Doctrine in the topics that he chooses, but anyway, the complaint is just empirically false, and nobody who actually read more than two or three installments of the comic would think that it's true. Just recently, there's comics like Obama phenomena, but it's especially clear if you spent any time reading the comic back during its glory days in the 1990s — since there was a Democratic president at the time, not surprisingly, Tomorrow spent more time writing about Democrats than he does now (and also, at times, the real Left — see, for example, Mumia or Chomsky). Roderick mentioned a particular comic:
But I seem to recall one This Modern World strip in which someone accidentally drops a lit match and then quickly steps on it to extinguish it –- while the punditocracy immediately goes into overdrive, speculating on how, if the match hadn't been snuffed out, it might have caused forest fires that would devastate whole cities; they conclude: I think this shows the need for more regulation. Anyone know of a link to that?

— Roderick Long, Austro-Athenian Empire (2008-09-16): Tomorrow and Tomorrow
Took me a while, but I found it. The comic is Dan Rather (1992).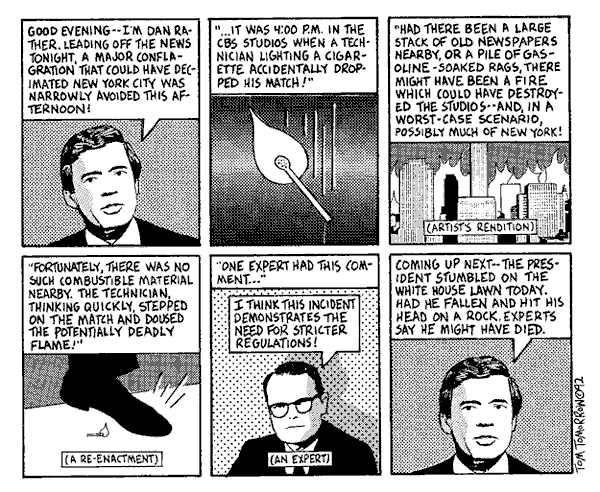 The work took a bit of digging, but it was good fun, since it gave me the opportunity to go back and remind myself of how weird and funny This Modern World used to be back in the 1990s. (Not that it's bad now; but I appreciated the Bay Area absurdism of something like Citizens Beware or Car Alarm, and Tom Tomorrow has himself said that the comic has gotten less sharp during the Bush years than it was in the 1990s — because the targets for parody have become so damn obvious that there's no real room for subtlety anymore.) Anyway, along the way I was also happy to be reminded of Terrorists (1995), the response to Bill Clinton's omnibus anti-terrorism surveillance bill: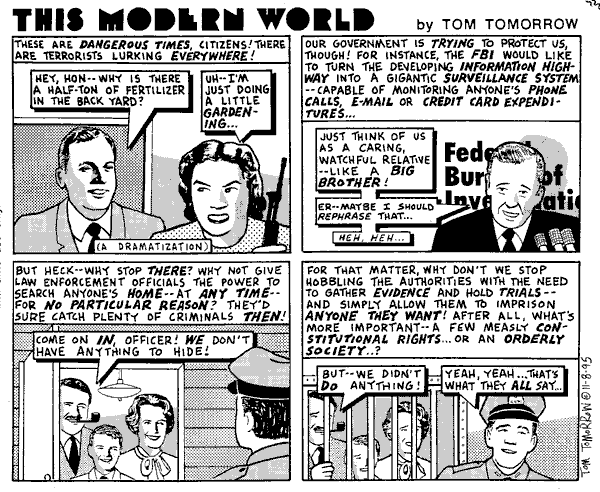 As well as Love (1990):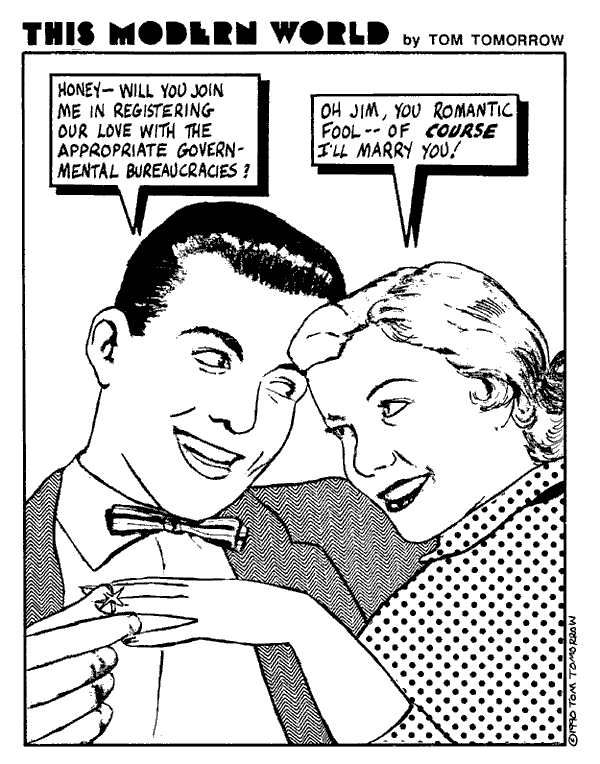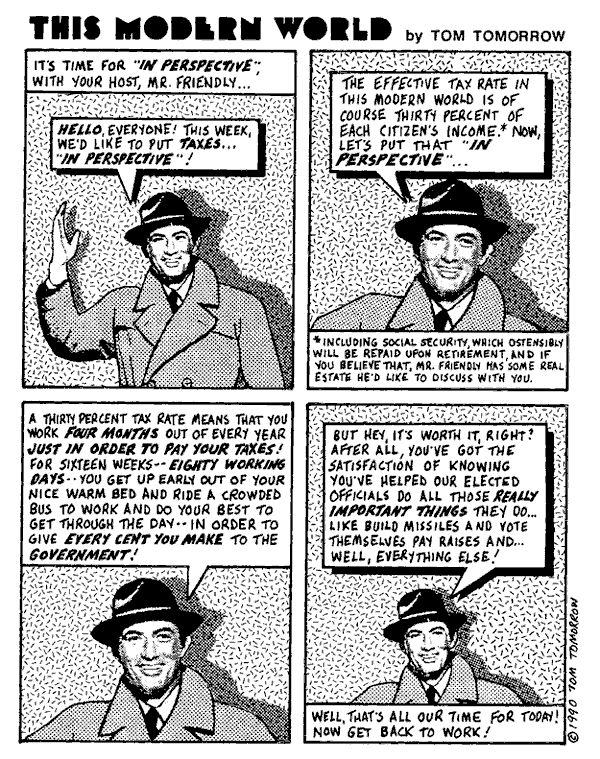 You can catch up with more of the last decade through Tom Tomorrow's online carton archive.