In this wide open space … under the blue sky, we stand together as God's children, Indonesian President Susilo Bambang Yudhoyono said in a flattened coastal suburb of Banda Aceh, capital of Indonesia's Aceh province after leading a minute of silence.

It was under the same blue sky exactly a year ago that mother earth unleashed the most destructive power among us.

The tsunami left about 230,000 dead or missing in 13 Indian Ocean countries — nearly three quarters of them in Aceh, on the northern tip of Sumatra — and made 1.8 million homeless.

Some women cling desperately to hope their children somehow are still alive.

In my heart, I still believe they are alive, said Yasrati, 38, who placed smiling photographs of her 13-year-old daughter and 5-year-old son in a local newspaper. They are still somewhere, I don't know where but I can still feel it.

This is my instinct as a mother.

A 9.15 magnitude undersea earthquake off Sumatra triggered tsunami waves up to 10 metres (33 feet) that smashed into shorelines as far away as East Africa, sweeping holidaymakers off beaches and erasing entire towns and villages.

In southern Thailand, people from many parts of the world joined Thais in remembering the 5,395 known dead and nearly 3,000 listed as missing.

…

In Sri Lanka's southern town of Peraliya, Hindu, Christian, Buddhist and Muslim priests chanted blessings at the site where 1,000 people died when their train was bowled over by the tsunami.

The Sri Lankan flag was lowered to half-mast as new President Mahinda Rajapakse oversaw two minutes' silence to mark the moment the tsunami hit. He placed a floral wreath at the foot of a cresting wave-shaped memorial.

In India's Andaman and Nicobar islands, groups of people walked from village to village observing silence in memory of those killed, while Nicobarese tribals in interior hamlets lit candles, the Press Trust of India reported.

A year after the unprecedented tsunami, an estimated 1.5 million people are still living in tents, temporary shelters or piled in with family and friends across the region.

— Tomi Soetjipto, Reuters (2005-12-26): Asia marks tsunami anniversary with prayers, silence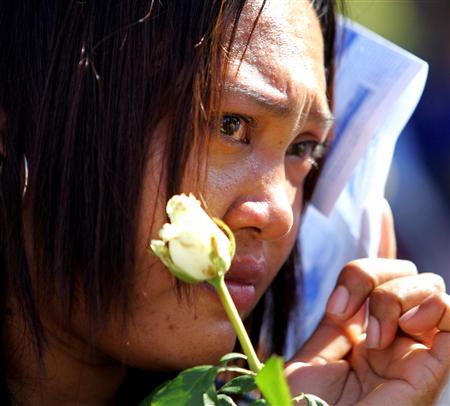 Pimchai Chudum; Khao Lak, Thailand.