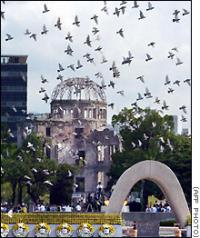 Amongst the Living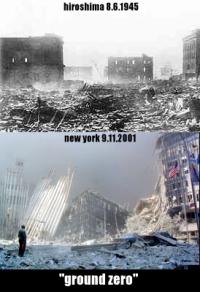 In Memory of the Dead
At 8:15am a solitary bell rang in Hiroshima. Doves were released and the names of some 4,977 people were placed underneath an arch-shaped memorial. Today's memorial ceremony marked the 57th anniversary of the atomic holocaust in Hiroshima, in which over 220,000 people were killed by the firestorm, shockwave, radiation poisoning, cancers, and various other illnesses.
It's become more or less a commonplace on the Left to recognize that Hiroshima was an atrocity, a crime against humanity inflicted upon innocent people by the US government. And while there remains a great deal of resistence among the media elites to understanding the horror of Hiroshima in the same terms as the horror of Auschwitz or the Killing Fields or September 11, it is far from an unspoken truth.
So let me merely say: Let us pause for a moment to remember those who died today. And let us celebrate those who live on and who work for a more peaceful, loving world.