Here's a pretty old post from the blog archives of Geekery Today; it was written about 15 years ago, in 2008, on the World Wide Web.
Fellow workers,
Here is what Coalition of Immokalee Workers organizer Lucas Benitez had to say at a press conference celebrating the C.I.W.'s remarkable victory in the Burger King penny-per-pound passthrough campaign:
Dr. Martin Luther King said it best when he said, The arc of the moral universe is long, but it bends toward justice.

Social responsibility in this country's food industry is inevitable, and though the exploitation of Florida's farmworkers remains unconscionable today, company by company we are building a path toward justice. The next steps are up to those companies that stand before us in the road ahead.

There are companies — like Chipotle in the restaurant world and Whole Foods in the grocery industry — that already make claims to social responsibility yet, when it comes to tomatoes, fall far short of their lofty claims. It is time, now, that those companies live out the true meaning of their marketers' words.

And there are companies — like Subway and WalMart — that, by the sheer volume of their purchases, profit like few others from the pernicious poverty of workers in Florida's fields. They, too, must step up now. After eight years of this campaign — and the very public commitment of the three largest fast-food companies in the world to the principles of Fair Food — they can no longer claim ignorance of the problem nor can they say that the solution is not possible.

So to all of you who have marched with us, organized petition drives with us, prayed with us, and struggled with us, today is a day to celebrate this hard-fought victory. Tomorrow, with renewed energy and purpose, we begin our work again to make respect for fundamental human rights in Florida's tomato fields truly universal.

— Lucas Benitez, quoted in Coalition of Immokalee Workers Breaking News (2008-06-09): The Road Ahead in the Campaign for Fair Food!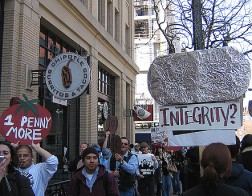 The C.I.W. and the Student-Farmworker Alliance are taking the fight to Chipotle, a corporation supposedly priding itself on food with integrity, with whom they have repeatedly tried to meet for negotiations, but who responded by claiming that they would investigate (ah, investigation; cf. suggestions #3 and #6), and, in the meantime, would suspend buying from Florida growers (!), rather than simply taking direct action, as they easily could, to raise Florida tomato-pickers piece rate by passing through the extra penny per pound. In April, C.I.W. and SFA organized protests at Chipotle headquarters in Denver. The C.I.W. has released a one page letter that you can print and deliver to the manager of your local Chipotle restaurants. I'm not a fan of the complaints of being excluded from the normal regime of federal labor regulation on wages, conditions, and organizing; the denial of that bureaucratic crutch and shackle is precisely what has freed the C.I.W. to use the kind of fight-to-win tactics that they are using, and to win the impressive victories that they have won. Other than that regrettable cap-doffing to the State labor bureaucracy, however, it's clear, to the point, and offers a quick and easy opportunity for you (yes, you) to get involved in the beginnings of what's sure to emerge as another creative, powerful, and ultimately victorious bottom-up, decentralized campaign of agitation and radical labor solidarity. Here's the text of the letter:
Dear Chipotle Manager,

Chipotle Mexican Grill has been presented with the opportunity to foster real social responsibility in its tomato supply chain by working with the Coalition of Immokalee Workers (CIW), an organization of farmworkers that has been internationally recognized for its work defending basic human rights. Instead, Chipotle claims to have suspended purchases of Florida tomatoes while it unilaterally investigates already well-documented human rights abuses in Florida's fields.

The supposed need for an investigation of the human rights crisis in Florida's fields today is mystifying. According to readily available Department of Labor statistics, tomato pickers in Florida face deplorable conditions, including:

Sub-poverty wages — Tomato pickers make, on average, $10,000/year;
No raise in nearly 30 years — Pickers are paid virtually the same per bucket piece rate (roughly 45 cents per 32 lb. bucket) today as they were in 1980. At today's rate, workers have to pick nearly 2.5 TONS of tomatoes just to earn minimum wage for a typical 10-hr day;
Denial of fundamental labor rights — Farmworkers in Florida have no right to overtime pay, even when working 60-70 hour weeks, and no right to organize or bargain collectively.

Even worse, numerous modern-day slavery rings, in which workers are held against their will and forced to work through violence or threats of violence, continue to operate in the fields. The Coalition of Immokalee Workers (CIW) has assisted the Department of Justice in uncovering, investigating, and successfully prosecuting 5 such cases — involving more than 1,000 workers — since 1997.

The three largest fast-food companies in the world have recognized these dehumanizing conditions and moved to address them, giving workers new hope for meaningful reform in the nation's agricultural industry. In 2005, after a 4-year national consumer boycott, Yum Brands (parent company of Taco Bell, KFC, Pizza Hut and others) reached an historic agreement with the CIW to directly improve wages and working conditions in its tomato suppliers' operations by paying a penny more per pound for its tomatoes and working with the CIW to implement an enforceable code of conduct to protect farmworkers' rights. McDonald's and Burger King followed suit in 2007 and 2008, respectively, reaching agreements with the CIW that met and expanded upon the Yum! Brands accord. All three fast-food leaders have recognized the fact that their high volume purchases of tomatoes give them the leverage they need to demand more humane working conditions in their suppliers' fields.

Chipotle however, has remained indifferent to the deplorable conditions faced by workers in its tomato supply chain. Nearly two years have passed since Chipotle launched its investigation and many questions now beg to be answered. Where are the results of Chipotle's inquiry into Florida's farm labor conditions? Where has Chipotle been purchasing tomatoes in the meantime, and how do workers fare in those fields? Is Chipotle actually supplying its East Coast restaurants with tomatoes from Mexico (the only other viable option to Florida tomatoes during nearly half the year), despite the immense increase in the cost and carbon footprint of Chipotle's food that would result from such a decision? Or is Chipotle still in fact purchasing Florida tomatoes, despite its claims to have suspended purchases from Florida? Are transparency and human rights not a part of Chipotle's definition of Integrity?

Please contact Chipotle Corporate Headquarters in Denver and let them know that you and your customers want them to join with Yum, McDonald's and Burger King as leaders in true corporate social responsibility by:

Paying a penny more per pound for the tomatoes that Chipotle purchases and ensuring that this increase is passed along to tomato pickers in the form of increased wages; and

Working with the CIW to implement an enforceable code of conduct to ensure fair and safe working conditions for farmworkers in Chipotle's tomato supply chain.

Thank you.
Print yourself out a copy and deliver it to your local Chipotle to explain why this issue will affect your burrito-purchasing decisions in the future.
More action alerts and a flyer about Chipotle that you can hang locally are promised soon. Keep an eye out for it: this should get interesting, and there's likely to be a lot more to come.
Victory to the farmworkers!
See also: