Here's a pretty old post from the blog archives of Geekery Today; it was written about 15 years ago, in 2008, on the World Wide Web.
Here's a recent dispatch from United Liberty (2008-08-30): Operation St. Paul. Boldface added.
The Western Standard is reporting that Dr. Paul's followers have been hard at work, preparing the twin cities for the influx of RNC delegates. Determined to get the Texas Congressman's message out there, Operation St. Paul was set in motion. Part of the push is in the form of billboards, such as this, showcased in the Minneapolis area.

Dr. Paul's message of freedom is a powerful one, and The Revolution: A Manifesto has become to the Freedom Fighter what a gospel tract is to an evangelical Christian.
Oh, come on. Y'all are making this too easy. It's so obvious that it's hardly even fun anymore.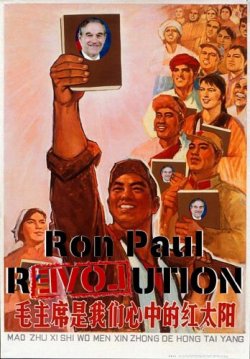 Hold high the great red banner of Ron Paul Thought—thoroughly smash the rotting counterrevolutionary revisionist line in Constitutional law!
See also: