Here's a pretty old post from the blog archives of Geekery Today; it was written about 19 years ago, in 2004, on the World Wide Web.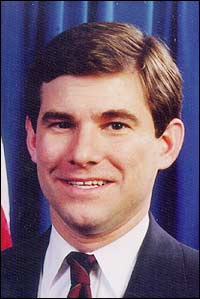 Bill Pryor (this is one of his more flattering portraits)
I've never liked Bill Pryor.
Why not? Well, there is, for example, his amicus brief in Lawrence v. Texas, in which he opines that gay sex between consenting adults is fundamentally akin to necrophilia, bestiality, possession of child pornography and even incest and pedophilia and that a right of privacy protecting the former would logically have to extend to the latter. Or there is his on-going one-man war to waste as much of Alabama tax-payers' money as possible (in a time of fiscal crisis) by defending the state's idiotic sex toy ban from the neferious machinations of the federal court system.
One might also mention his winning record on women's rights–not only as a militant opponent of Roe v. Wade, but also as the only state Attorney General in the nation to file an amicus brief opposing key sections of the Violence Against Women Act in Brzonkala v. Virginia Polytechnic Institute. (The court agreed and struck down the provisions, which empowered rape survivors to seek recompensation through a civil suit in federal court. Thanks, Bill.)
Bill Pryor has, in short, made some enemies. Not surprisingly, as a dangerous theocratic Rightist, he's a prime candidate for a Bush Administration judicial appointment to the federal bench. As much as I like to see a hometown boy making good, I can't say that I disagree with the on-going effort by women's rights, civil rights, and religious liberties groups to stop his nomination. And I have to say that I'm rather glad that Senate Democrats are filibustering his nomination.
But liberals and Internet anarcha-feminist weblogs are no longer the only people calling for Pryor's nomination to be scotched.
Pryor has made some new enemies lately, and–in what may be a paradigm case for the Strange Bedfellows principle–supporters of ex-Chief Justice Roy Moore have joined the fray and called on Bush to drop the Pryor nomination.
A group of supporters of ousted Supreme Court Justice Roy Moore asked Friday that President Bush withdraw the nomination of Alabama Attorney General Bill Pryor to be a federal judge.

The Rev. Frank Raddish, founder and director of the Washington-based Capitol Hill Independent Baptist Ministries, said Pryor abandoned his previous position supporting public Ten Commandments displays when he prosecuted Moore before the Alabama Court of the Judiciary.

The court removed Moore from office for refusing to obey U.S. District Judge Myron Thompson's order to move a 5,300-pound Ten Commandments monument from the rotunda of the Alabama Judicial Building.
Given my frequent fulminations of Roy Moore's anathemas, you may find it a bit surprising that I actually welcome Roy Moore's supporters to the fold. And not just as a matter of political expedience–they are actually right that Bill Pryor's stance on the prosecution of Roy Moore make him completely unfit for a federal judgeship. This may strike you as odd, since I vociferously lauded Moore's prosecution and removal from the bench, and I think that Bill Pryor's prosecution of Moore was entirely the right thing to do. So what gives?
The short answer is that Bill Pryor chose the right action, but he chose it for entirely the wrong reason. Pryor has urged in repeated public statements that he agrees with Moore about State-sponsored display of the Ten Commandments, but that he is prosecuting Moore because Moore defied a federal court order that both he and Moore consider to be fundamentally mistaken. Pryor's mouthpiece put it this way: It's one thing to support the idea of having a monument in a court building. It's an entire [sic] different issue to support defiance of federal court orders. So Pryor's position is this: the federal court order is a mistake; it has no foundation in Constitutional law, and is in fact an illegal violation of the prerogatives of the several states; and yet Roy Moore has no business disobeying it.
It's bad enough to be, like Moore, a dangerous theocrat with complete contempt for the law. But how much worse is it to combine, like Pryor, theocratic Right-wing politics with blind obsequiousness to federal power? If the federal court order were in fact illegal what possible argument could there be that Roy Moore should be forced to comply with it? Roy Moore's position in this fracas is pernicious; but Pryor's is beneath contempt.
So welcome to the fold, Mooreans! Écrasez l'inf@@c3;a2;me.