Here's a pretty old post from the blog archives of Geekery Today; it was written about 19 years ago, in 2004, on the World Wide Web.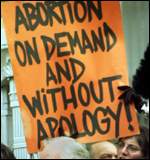 Thirty-one years ago today, the United States Supreme Court made a remarkable human rights ruling: it finally recognized that a woman has a fundamental human right to control her own body, including her uterine lining. January 22 is Roe v. Wade Day, the anniversary of the decriminalization of abortion in every state of the union, and one of the most remarkable victories of radical feminism in the late 20th century.

Yes, I said radical feminism (gasp!). Most people don't realize it today, but (as Susan Brownmiller documents in her history-memoir In Our Time: Memoir of a Revolution) it was radical feminists–such as Kathie Sarachild and Carol Hanisch of the Redstockings, Susan Brownmiller, and Flo Kennedy–who organized and led the struggle for abortion rights, when no-one else would; it was radical feminists such as who pushed for the repeal of all abortion laws when liberal feminist groups (especially NOW) were afraid to touch the issue or thought the demands should be limited to calling for some mild reforms. It was radical feminists who understood that abortion is not just a medical issue (although it is that), or an issue of sexual privacy (although it is that, too). They framed it as an issue of choice: that is, of a woman's human right to choose what to do with her own body. They, too, recognized that because abortion was a human right, the criminalization of abortion and the back-alley butchery that went on underground was a form of State violence against women. It was radical feminists, too, who brought the urgency and the clear justice of the cause into the public eye through consciousness-raising, through speeches, and especially through speak-outs and confrontations with the men who claimed power over them:
On the same wintry day in mid-February when NARAL's founders were traveling to Chicago for their first conference six state legislators held a public hearing in Manhattan on some proposed liberalizing amendments to the New York [abortion] law. Typical of the times, the six legislators were men, and the speakers invited to present expert testimony were fourteen men and a Catholic nun.

On the morning of the February 13 hearing, a dozen infiltrators camouflaged in dresses and stockings entered the hearing room and spaced themselves around the chamber. Some called themselves Redstockings, and some, like Joyce Ravitz, were free-floating radicals who were practiced hands at political disruptions. Ravitz, in fact, had been on her way to another demonstration when she'd run into the Redstockings women, who convinced her to join them.

As a retired judge opined that abortion might be countenanced as a remedy after a woman had fulfilled her biological service to the community by bearing four children, Kathie Amatniek [Sarachild] leaped to her feet and shouted, Let's hear from the real experts–women! Taking her cue, Joyce Ravitz began to declaim an impassioned oration. Ellen Willis jumped in. More women rose to their feet.

Men don't get pregnant, men don't bear children. Men just make laws, a demonstrator bellowed.

Why are you refusing to admit that we exist? cried another.

Girls, girls, you've made your point. Sit down. I'm on your side, a legislator urged, raising the temperature a notch higher.

Don't call us girls, came the unified response. We are women!

–Susan Brownmiller, In Our Time: Memoir of a Revolution, 106-107
The victory in that struggle is one of the most remarkable victories in recent history — in 1968 abortion was criminalized in every state; in 1970 the first major victory was gained with the repeal of the abortion law in New York; on January 22, 1973, only 5 years later, the United States Supreme Court recognized the right to choose in every one of the 50 states.
The passion, radical energy, and fundamental justice of that movement — a movement against the colonization of women's bodies by the male-dominated State, and against the mutilation of women's bodies by back-alley butchers — should never be forgotten. Take the time on Roe v. Wade Day to say a Thank you! to the radical Women's Liberation movement, and to remember the victory that Roe v. Wade represents — for all its many limitations (which I will have more to say about later). This is a day for celebration, and don't let the anti-choice jerks in Washington (whether they are visitors or residents) intimidate you into silence. Happy Roe v. Wade Day–and here's to many happy returns!