New Brunswick's alterna-weekly, [here], recently decided that they wanted to gain some Progressive street cred on the Woman Question. Thus a cover story on breast-feeding, focusing on some women's efforts to destigmatize it, and the need for nosy busybodies and self-appointed decency police to get over their hang-ups about women breastfeeding in public:
We don't have a lot of support for women, says Storr. She says there are a myriad of reasons why women don't breastfeed, but the lack of support on a few fronts is the biggest reason.

Some people will say (to breastfeeding mothers), I formula fed you, and you're fine. Beyond this, there is a public perception that breastfeeding is something that belongs behind closed doors, she says.

In Vancouver, people breastfeeding in malls and the public is common, she says. In NB, it's not. Christina Taylor, a 31 year old mother of two who is currently nursing a five and a half month old, says she has a friend who found some trouble in an NB mall.

She was in a food court in a mall, she says.

She had a lady tell her she should feed her baby in the bathroom. She was feeding her baby in a place where everybody else was feeding. Taylor breastfed her now three year old son, but she says at times, she felt housebound.

Here, people frown on you when you nurse in public, she says.
A point well taken. And what better way to reinforce it than for the alterna-publishers of the alterna-weekly to pull the issue off shelves and sack the editor, Miriam Christensen, for daring to put this perfectly lovely and tender photograph on the cover: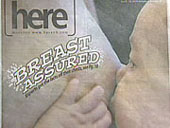 Original cover of the 6 October 2005 issue.
… because the sight of a woman breastfeeding an infant is, apparently, inappropriate for the public sphere, and we are all of us better off for their much more appropriate replacement cover, helping to demystify breastfeeding with a pastel cartoon of a mother not breastfeeding her child. Which was apparently lifted from a 1950s Kotex ad: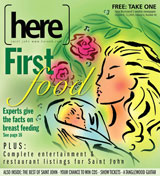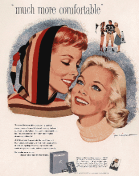 Compare and contrast: the 6 October 2005 cover of [here], and a Kotex ad from 1957.
… with even the word Breast dropped out of the top headline — just to make sure, I guess — in favor of First Food, a euphemism apparently summoned from of the eighth circle of Whole Foods hell.
What else is there to do other than just to point to the damn thing — from Princess Aurora to the pastel roses floating in the air behind her? Congratulations are due to the Irving newspaper group: they have officially outpaced any possibility of satire.
Further reading