Here's a pretty old post from the blog archives of Geekery Today; it was written about 17 years ago, in 2006, on the World Wide Web.
Here's the latest communiqué from 14th of 32, sometimes known as Representative Ron Paul: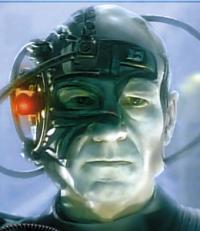 Freedom is irrelevant. Assimilation is inevitable.
The recent immigration protests in Los Angeles have brought the issue to the forefront, provoking strong reactions from millions of Americans. The protesters' cause of open borders is not well served when they drape themselves in Mexican flags and chant slogans in Spanish. If anything, their protests underscore the Balkanization of America caused by widespread illegal immigration. How much longer can we maintain huge unassimilated subgroups within America, filled with millions of people who don't speak English or participate fully in American life?
Clearly, therefore, we need to keep shooting immigrants, mercilessly and unrelentingly:
We must reject amnesty for illegal immigrants in any form. We cannot continue to reward lawbreakers and expect things to get better. If we reward millions who came here illegally, surely millions more will follow suit. Ten years from now we will be in the same position, with a whole new generation of lawbreakers seeking amnesty. … We need to allocate far more resources, both in terms of money and manpower, to securing our borders and coastlines here at home. This is the most critical task before us, both in terms of immigration problems and the threat of foreign terrorists. Unless and until we secure our borders, illegal immigration and the problems associated with it will only increase.
And also to ensure that everybody (except, of course, for Americans) has to go through years of paperwork and long waits to earn precious American citizenship. Just, you know, to be fair:
Amnesty also insults legal immigrants, who face years of paperwork and long waits to earn precious American citizenship.
It's a good thing that there are principled libertarian lawmakers like Ron Paul to stand up against the right of landowners to invite Mexicans onto their property without a permission slip from the government, and to demand that laws for discriminating against workers or tenants on the basis of nationality be respected.
I mean, Jesus, if we don't keep shooting immigrants who won't assimilate, we might actually end up with more than one language commonly spoken in this country. ¡Que desastre! You don't want to end up like Switzerland, do you?