Here's a pretty old post from the blog archives of Geekery Today; it was written about 13 years ago, in 2010, on the World Wide Web.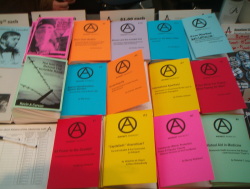 Hey y'all. I am blogging on the road from Los Angeles — here to check out the Los Angeles Anarchist Bookfair (which begins in a couple hours). Also to hold down a table of our own with booklets and buttons for Southern Nevada ALL, and hopefully to posse up with several Southern California ALLies in the process. (If you're going to be there today, feel free to give a shout-out in the comments!) But neither rain nor snow nor trips across the desert wastes will stop me from announcing the appointed hour of Shamelessness.
And you? What have you been up to this week? Write anything? Leave a link and a short description for your post in the comments. Or fire away about anything else you might want to talk about.