These are from the streets of Tampa, Florida. The first is from Brian Miller, via Radley Balko (August 28, 2012) (via my cousin Emily): it's a picture of the out-of-town police brought in to Tampa to guard the 2012 Republican National Convention. The others are from many sources, collected in Examiner.com's article on the use of the newest technology in civilian surveillance and police weaponry in Tampa and Charlotte.
* * *
Show me what elected government looks like…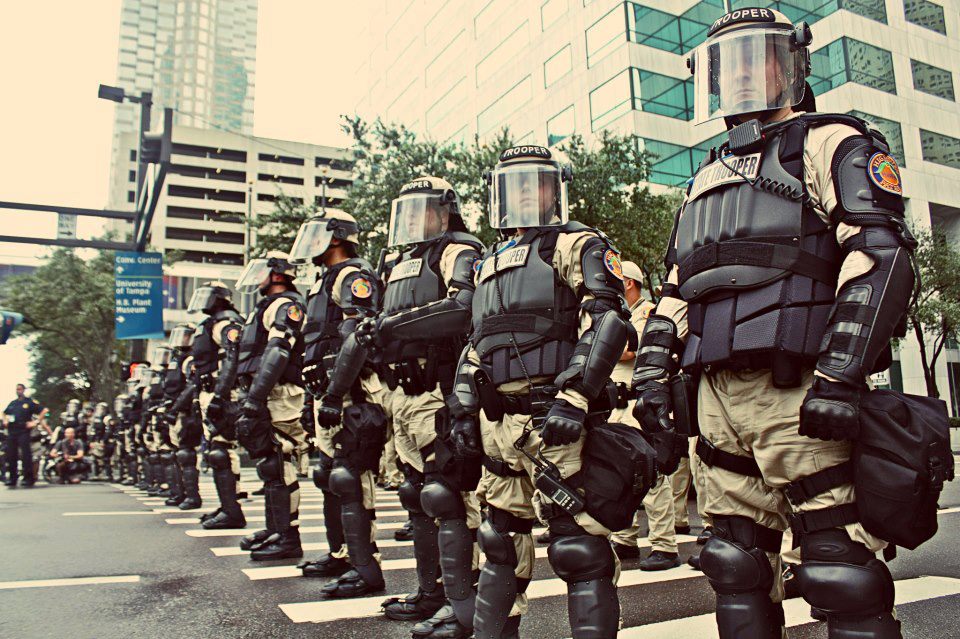 This is what elected government looks like.
* * *
Show me what a police state looks like…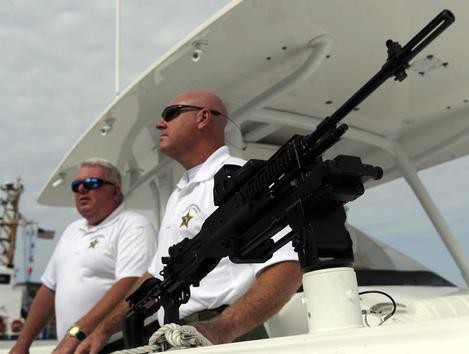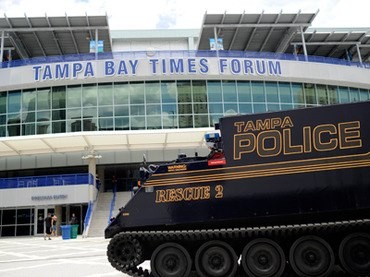 This is what a police state looks like.
* * *
From the Examiner.com article:
Officials in Tampa are preparing for mass arrests; Orient Road Jail has been vacated to ensure that the 1,700 beds can be utilized if needed. It has been reported that an Occupy Tampa protester was arrested on August 27, 2012, for refusing to remove his mask at the request of the police. Occupy Tampa has also reported that homeless people are being arrested near the convention by !!!@@e2;20ac;2dc;secret service.'

Tampa received a $50 million federal grant just for security. Tampa bought high-tech security cameras, body armor, and an armored tank. During the RNC, Tampa will have boat patrols armed with fully automatic .308 caliber rifles. Trapwire surveillance systems have also been installed throughout Tampa  .

According to 2012Tampa.com "The Convention is designated by the Department of Homeland Security as one of only four National Special Security Events (NSSE) to be held in 2012; other examples of potential NSSE events include G-8/G-20 Summits and the World Bank/IMF meetings."

— Chris Time Steele, Examiner.com (August 27, 2012): From the DNC in Denver to the RNC in Tampa, the surveillance state grows
Here is what I wrote a few years ago, during the paramilitary occupations of the Twin Cities during the last Republican National Convention.
Remember that so-called electoral democracy — in fact, nothing more than an imperial elective oligarchy — never means that we (meaning you and I and our neighbors) are respected as sovereign individuals or left alone to manage our own affairs. What it means is that a highly organized, heavily armed elite insists on the privilege of representing us, ruling over us, and ordering us around, on the excuse that, once every several years, we are given some minimal opportunity to select which of two tightly regimented political parties will take control of the ruling apparatus. It is, in other words, not freedom, but rather a Party State, in which we are given only the choice of which of two bureaucratic political parties might control our lives and livelihoods, with their authority supposedly justified by the ritual of elections and the mandate of popular sovereignty. And if the people (again, meaning you and I and our neighbors) should dare to think that we might challenge the authority of the regime supposedly representing us, you'll find that it's the people that go out the window, not the rigged electoral system or the parties' grasp on the authority supposedly derived from those people.

— GT 2008-09-03: This is what a police state looks like (part 1 of ???)
Also.
From 2008.