(Links via Dulce Et Decorum Est 2006-07-31 and comments on Tennessee Guerrilla Women 2006-07-30.)
Here is a view of war and manhood from the bottom of the ranks.
I came over here because I wanted to kill people.

Over a mess-tent dinner of turkey cutlets, the bony-faced 21-year-old private from West Texas looked right at me as he talked about killing Iraqis with casual indifference. It was February, and we were at his small patrol base about 20 miles south of Baghdad. The truth is, it wasn't all I thought it was cracked up to be. I mean, I thought killing somebody would be this life-changing experience. And then I did it, and I was like, All right, whatever.

He shrugged.

I shot a guy who wouldn't stop when we were out at a traffic checkpoint and it was like nothing, he went on. Over here, killing people is like squashing an ant. I mean, you kill somebody and it's like All right, let's go get some pizza.

At the time, the soldier's matter-of-fact manner struck me chiefly as a rare example of honesty. I was on a nine-month assignment as an embedded reporter in Iraq, spending much of my time with grunts like him — mostly young (and immature) small-town kids who sign up for a job as killers, lured by some gut-level desire for excitement and adventure. This was not the first group I had run into that was full of young men who shared a dark sense of humor and were clearly desensitized to death. I thought this soldier was just one of the exceptions who wasn't afraid to say what he really thought, a frank and reflective kid, a sort of Holden Caulfield in a war zone.

But the private was Steven D. Green.

— Andrew Tilghman, Washington Post (2006-07-30, B01): I came over here because I wanted to kill people.
When Tilghman met Green, Green was angry and disillusioned about the war. He seethed about the old men's demands for restraint (We're out here getting attacked all the time and we're in trouble when somebody accidentally gets shot?), and about the meaninglessness of this war:
See, this war is different from all the ones that our fathers and grandfathers fought. Those wars were for something. This war is for nothing.

— Quoted by Andrew Tilghman, Washington Post (2006-07-30, B01): I came over here because I wanted to kill people.
Those who cannot remember the past are condemned to repeat it. Green was wrong about the wars that our fathers and grandfathers fought. Or any other war fought by men in the name of the National Manhood. Meanwhile, here is another view of war and manhood, from the top of the ranks:
The Wars Our Fathers and Grandfathers Fought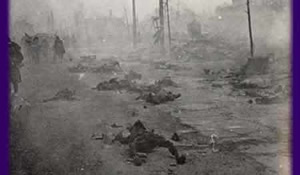 Aftermath of the Tokyo firebombing, 10 March 1945
Aftermath of the atomic bombing of Hiroshima, 6 August 1945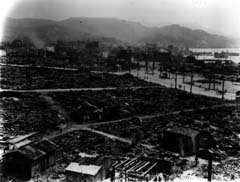 Nagasaki railroad station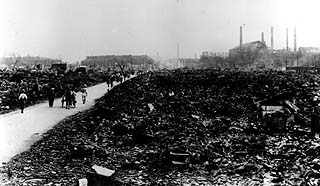 Iwakawa-machi residential neighborhood, Nagasaki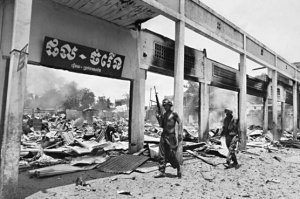 Aftermath of U.S. bombing of Snu?@c5;8f;l, Cambodia on 3 May 1970.
AUSTRALIA intervened to stop key US military strikes against Saddam Hussein's regime in Iraq, fearing they might constitute a war crime.

Major General Maurie McNarn, then a brigadier and commander of Australian forces in Iraq, on several occasions played a red card against the American plans, which included hits on individuals. His objections drew anger from some senior US military figures.

In one instance, Major General McNarn vetoed a US plan to drop a range of huge non-precision bombs on Baghdad, causing one angry US Air Force general to call the Australian a pencil dick.

However, US military command accepted Major General McNarn's objection and the US plans were scrapped.

The revelation of how Australia actively and successfully used its veto power in the 2003 invasion of Iraq is contained in a new book on the US-Australian alliance, The Partnership, by The Weekend Australian's foreign editor, Greg Sheridan.

… The book reveals that Major General McNarn — now the head of the Defence Intelligence Organisation — delivered a great shock to the US when he first used the red card and then put his objections to the proposed US military strike in writing.

Shit, exclaimed one American when he saw the document. What if this leaks? Major General McNarn replied that if the US did not take the illegal action, it would not matter.

As coalition forces prepared plans to take Baghdad, Major General McNarn vetoed three of five proposed US Air Force weapon systems — mostly huge bombs — on the grounds that they were not accurate for a radius of less than 16m and, as a result, were unsuitable for use in a built-up area.

— Cameron Stewart, The Australian (2006-07-29): Aussie veto stopped US war crimes
There are of course two stories here. The first story, the one emphasized by the news report, is that the Australian general halted the U.S. generals' plans to indiscriminately bomb Baghdad–which would have made the war even more of an abattoir for Iraqi civilians than it became even with the more restrained bombing. The second story is that the U.S. generals made plans to indiscriminately bomb Baghdad. Plans they were invested in, and plans they were enraged to see blocked.