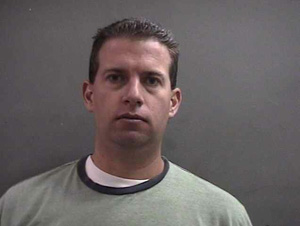 Rapist on patrol: Officer David Alex Park
(Story via smally.)
Last month, in Irvine, California, Officer David Alex Park, stalker and rapist, was acquitted by a jury of eleven men and one woman. He was acquitted, not because he is anything other than a stalker and a rapist–which he as much as admitted in open court, and which was proven well enough anyway by phone records, license plate requests, and DNA evidence. He was acquitted because he is a cop, and the woman that he harassed and sexually extorted danced at a strip club, and so the jury concluded that she made him do it, and besides, if she strips for a living, she must have been asking for it anyway.
You might think that I am exaggerating the defense's position for polemical effect. No, I'm not. Here's defense attorney Jim Stokke: She got what she wanted, … She's an overtly sexual person. And in cross-examination of Lucy, the survivor: You do the dancing to get men to do what you what them to do, … And the same thing happened out there on that highway [in Laguna Beach]. You wanted [Park] to take some sex!
Back in the real world, outside of Jim Stokke's and Officer David Alex Park's pornographic power-trip succubus fantasies, what actually happened is that a professional cop, while armed and on patrol, used the extensive arbitrary powers that the law grants to police in order to get personal records on several different women at the strip club, picked out the one he liked the best, followed her, waited for the first excuse to use his legally-backed coercive power against her, used the power of his badge and gun to force her to pull over, used that same power to bring her under his custody and keep her there against her will, threatened her with arrest and jail, and then forced her into sex against her will. He didn't give a damn about what she wanted because she's just a woman, and an overtly sexual one at that. And he could force what he wanted on her because he's a cop–so he has the power to restrain and threaten her–and she's a stripper–so he had every reason to believe that a jury would give him every possible (and some impossible) benefit of the doubt, while they treated her bodily integrity and her consent as worth less than nothing, and blamed her for anything that happened to her, anyway. As, in fact, they did.
As I said about a case with several male cops in San Antonio back in December:
What as at stake here has a lot to do with the individual crimes of three cops, and it's good to know that the police department is taking that very seriously. But while excoriating these three cops for their personal wickedness, this kind of approach also marginalizes and dismisses any attempt at a serious discussion of the institutional context that made these crimes possible — the fact that each of these three men worked out of the same office on the same shift, the way that policing is organized, the internal culture of their own office and of the police department as a whole, and the way that the so-called criminal justice system gives cops immense power over, and minimal accountability towards, the people that they are professedly trying to protect. It strains belief to claim that when a rape gang is being run out of one shift at a single police station, there's not something deeply and systematically wrong with that station. If it weren't for the routine power of well-armed cops in uniform, it would have been much harder for Victor Gonzales, Anthony Munoz, or Raymond Ramos to force their victims into their custody or to credibly threaten them in order to extort sex. If it weren't for the regime of State violence that late-night patrol officers exercise, as part and parcel of their legal duties, against women in prostitution, it would have been that much harder for Gonzales and Munoz to imagine that they could use their patrol as an opportunity to stalk young women, or to then try to make their victim complicit in the rape by forcing her to pretend that the rape was in fact consensual sex for money. And if it weren't for the way in which they can all too often rely on buddies in the precinct or elsewhere in the force to back them up, no matter how egregiously violent they may be, it would have been much harder for any of them to believe that they were entitled to, or could get away with, sexually torturing women while on patrol, while in full uniform, using their coercive power as cops.

A serious effort to respond to these crimes doesn't just require individual blame or personal accountability — although it certainly does require that. It also requires a demand for fundamental institutional and legal reform. If police serve a valuable social function, then they can serve it without paramilitary forms of organization, without special legal privileges to order peaceful people around and force innocent people into custody, and without government entitlements to use all kinds of violence without any accountability to their victims. What we have now is not civil policing, but rather a bunch of heavily armed, violently macho, institutionally privileged gangsters in blue.
In Irvine, the same thing is happening all over again–just another Bad Apple causing Yet Another Isolated Incident. Except that in Irvine, the legal system has not even gone so far as to get to the part about individual blame and personal accountability. Overt misogyny against women who dare ever to be overtly sexual, combined with overt authoritarianism in favor of any controlling macho creep with a badge and a gun and a pocketful of wet dreams, have combined to get this admitted sexual predator completely off the hook, and leave all of his old buddies back at the department free to stalk, harass, extort and rape suspect women, with every expectation of more or less complete impunity for their actions.
Christ, but there are days when I hate being proven right about the things I write about.
Further reading: