Allowing people into a nation who do not identify themselves as part of that nation–who do not speak the language, who do not observe the holidays, who do not know or care about the history and ideals and cultural icons–is simply suicidal.

— Timothy Sandefur Illegal Alienation, at Positive Liberty (30 March 2006)
Now I am sure that all of you properly assimilated Americans realized that June 14th is Flag Day — a national commemoration of the military colors of this bayonet-bordered Union, first recognized in 1916 by the rabid white supremacist xenophobe, warmongering political persecutor, and President of the United States Thomas Woodrow Wilson. And I do hope that you all have observed this civic holy-day in a manner befitting the solemnity of the occasion, and the importance of such cultural icons to the flourishing — indeed, the survival — of so great a nation.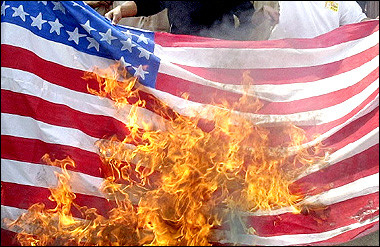 So perish all compromises with tyranny! And let all the people say, Amen! —William Lloyd Garrison